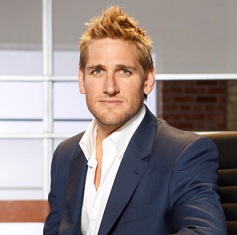 by Gina Scarpa
This Sunday, America's Next Great Restaurant will crown its winner and it all comes down to Sudhir, Jamawn, and Joey. The winner will have three restaurants in some of the best locations in the country - New York, Minneapolis, and Hollywood. Today, we talked to investor and judge Curtis Stone in an exclusive interview about the upcoming finale and his plans to open a restaurant of his own!
Q. Gina, RealityWanted: When did things change for you from being a chef to a celebrity chef that everyone knows?
A. Curtis: It just happened gradually and one day you're in the grocery store and someone says, "Aren't you that guy?" You get more and more recognized.
Q. Gina, RealityWanted: What drew you to being a part of America's Next Great Restaurant?
A. Curtis: It's such an interesting concept that you take ordinary people and turn one of them into a major player in the restaurant world. We started out with 20 concepts and quickly narrowed it down to 10. Now, we have 3 that have made it down to the finale. For me, it's a way for me to give back to something that has given to me so much. This is a way for me to share some of my passion for the industry with someone else who's going to join it.
Q. Gina, RealityWanted: The contestants this season have been so diverse, coming from all walks of life. Did you find yourself getting attached to them and their concepts?
A. Curtis: Absolutely! I think we fell really deeply in love with some of these people who were sharing their passion with us. It's been a really interesting journey where you want them all do well but, of course, there can only be one winner
Q. Gina, RealityWanted: Was there an elimination this season that was particularly tough for you?
A. Curtis: You know what? Every single one of them was tricky. One of them very early on, Eric [Powell] who did the grilled cheese... I really liked his concept and I really liked him as a guy. You can see how much it affects them when they're not successful. That was a really tough one.
Q. Gina, RealityWanted: The locations for the winning restaurant are pretty impressive - the Mall of America, South Street Seaport, and the Hollywood and Highlands Mall. What are those locations going to mean to the winner of the show?
A. Curtis: Talk about giving them a stage to show off their concepts to the country! The Hollywood location is going to be one of the restaurants that I'll be at a lot because it's close to my home.
Q. Gina, RealityWanted: Sudhir, Jamawn, and Joey have three very different restaurants. What do you like about each of them?
A. Curtis: I love the way it represents American food. I think we have a really great mix. We have meatballs and Italian food. When I think of meatballs, I think more of American food than I do Italian food. Then, we have soul food. He's got this healthy twist on it for the American public. And then you have something very new to America in the way of Indian food. You can make a case to say that this is the way American food should be moving, become more international. All in all, the three concepts are all really solid, really exciting.
Q. Gina, RealityWanted: You're one of the investors in the winning restaurant. Will you stay in touch with the winner about how their restaurant is doing going forward?
A. Curtis: Oh absolutely! We'll be there every step of the way. We'll be behind the scenes, giving support, and everything we need to give to winner to make sure it's a successful concept.
Q. Gina, RealityWanted: Have you been thinking about perhaps opening your own restaurant?
A. Curtis: I have! I've put together a business plan and looking at sites. I'm hoping to have something by the end of the year.
Q. Gina, RealityWanted: It seems every time I turn on my tv, there you are - not that I'm complaining! What's next for you?
A. Curtis: I've been busy! Of course, I'm doing Top Chef: masters on Bravo which has been an absolute dream. Who knows? We might have another season of that. I've been a busy boy. I'm happy to focus on my restaurant and get that moving.

Don't miss the finale of America's Next Great Restaurant, Sunday at 8/7c on NBC.
(Image courtesy of NBC)

Follow Curtis @curtis_stone and Gina @ginascarpa