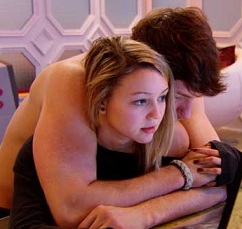 by Gina Scarpa
Alright, I know it's kind of evil but this week's episode of The Real World: Las Vegas is the one I've been waiting for - the one where Heather finds out Dustin's secret. Let this be a lesson to all. Just because you clicked with your cute, new roommate doesn't mean that he's boyfriend material. Before we get to the big reveal, let's back up a bit.
Adam calls Nany to let her know that he found out Dustin once did gay porn online under the name Spencer. Nany only decides to share this shocking news with Naomi and the two decide that it's not their place to tell Heather... actually, it is but... whatever.
The girls have decided to put their differences with Cooke aside and move on with their lives. The roomies all head out for a fun day and one of their activities includes a gondola ride. Dustin refuses to ride in the boat with Michael and Leroy, saying that it's "gay". You know what else is gay? Doing gay porn.
Somehow, Heather's MOM finds out about Dustin's past (what's she been searchin' online?) and sends her daughter an email to give her the heads up. Heather goes to Dustin asking if there's anything he hasn't told her. "There's lots I haven't told you," he said. Yeah, buddy. Just the part about how you were part of the adult film industry. Understandably, Heather is upset and unable to handle things, Dustin decides to spend some time alone.
For some reason, everyone decides it would be a great time to go see a Cirque du Soleil show, Zumanity, that is all about sex. Dustin ends up getting pulled on stage by drag queens and is touched and caressed while lying on the ground. Awkward.
Back at the suite, Dustin sits everybody down and tries to explain how he ended up on a porn website. He had no options after high school and his mom had serious mental issues. He was approached by a man who asked him to live in a house with straight men and be filmed 24/7. Seems innocent enough, right? Well, the more time went on, the more popular he became and the more it seemed he needed to do more than just live his life in this house. I don't quite understand it all but it seems that he pushed it a little further every time and there was some touching with other guys involved but no sex. I guess. Who knows?
No one is really sure how to handle all of this. Leroy questions if anyone even knows Dustin at all and Michael writes him a long letter telling him how much he hates him and wants him to leave. Dustin tries to pack up and leave but Heather stops him. You know those girls on The Real World love a boy who needs saving.
Dustin and Heather head out to eat to try to talk things out. Heather sticks to her morals and convictions: She has no problem with gay people but she can't be with a guy who's been with another guy. Looks like it's over for these two.
The question is: Will Cooke seize her opportunity now to get with Dustin?

The Real World: Las Vegas airs Wednesdays at 10/9c on MTV.
(Image courtesy of MTV)

Follow Gina @ginascarpa