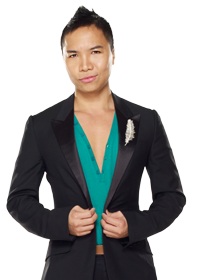 by Gina Scarpa and Allie Giffes
When we first met contestant Calvin Tran on The Fashion Show: Ultimate Collection, our first impressions of him were far from good. He was rude, extremely hard to work with and way too cocky considering he hadn't proved anything to anyone. The thought of him making it to the finale was a joke - but somehow, he pulled it off without winning a single challenge along the way. However, we did get to see Calvin make attitude adjustments throughout the competition, and his collection focused on those changes. Although his collection didn't come out on top, there's no doubt that he has made a lasting impression on the show's viewers (even if it wasn't such a good one at first)!
Q. Gina, RealityWanted: In the beginning of the competition, there is no doubt that the other designers didn't really care for you that much - but you also didn't seem to care. Was it hard to focus on your designs with so much tension in the room?
A. Calvin: At the beginning, I was really focused on being a lone designer, until I found out that I had to work in teams. I was always by myself, and didn't talk much to the other contestants, and it was my plan to be alone and keep my distance from the other contestants. I never chit chat or hung out with them... so I guess that's why they weren't fond of me but it's all part of my strategy.
Q. Gina, RealityWanted: When in the competition do you think you really started to see a change within yourself and your attitude?
A. Calvin: Being a 24 hour bitch is not all that fun... it's hard... I can do that for the first week, but as time goes on, the human interactions have to develop. Once you get to know me, they saw through the surface, and I started to like them. It's lonely being me in that situation, but I held on til I couldn't take it anymore -and I guess my human side came out!
Q. Gina, RealityWanted: What was your favorite challenge and why?
A. Calvin: My favorite challenge was the Housewives challenge and the eccentric one. The Housewives (was my favorite) because Caroline was so smart, and Teresa was brilliant as well. It's great because I thought we were going to lose but they helped us pull out of a losing situation and Simon Doonan was great. I was his biggest fan and with him there, it really elevated my competitive instinct and made me bring the game up a notch. I've got to stay when I thought I was about to get sent home, that was icing on the cake.
Q. Gina, RealityWanted: There's no doubt that towards the end of the competition you had built up several friendships, but who was your favorite designer to work with throughout the competition?
A. Calvin: My favorite designers were always Eduardo and Tamara. I think Tamara was a great designer, but she didn't get a second chance to show the world. Eduardo - he is a master of dress making. No one makes a dress like him. And I really admire Dominique for her fearlessness and taking the form of clothes to another universe. She is a visionary.
Q. Gina, RealityWanted: You said that if you won the competition, you would donate all of the money to the Gay Men's Health Crisis. Though you did not win, do you still plan on actively donating to causes such as theirs?
A. Calvin: Oh, that I have been doing for years. I donate every Christmas, and I also do fundraising for Lua Viet open heart surgery for poor children in Vietnam every year, too.
Q. Gina, RealityWanted: Are you working on any big projects now? What can we expect to see from Calvin Tran in the near future?
A. Calvin: Calvin Tran is doing exactly what Calvin Tran always has been doing: designs, running the business, living life, expanding my business - really doing what I have been doing before all this madness took place. I will develop my own show. Please check out calvintran.com. My e-commerce site is open and the clothes are fabulous.
Q. Gina, RealityWanted: Did your mother end up enjoying your work that you showcased at the finale?
A. Calvin: My mother loved the show and felt bad for me, so she wrote me a really big check just to make me feel better. I guess I will either open more stores, or take a long vacation which I am already doing!

(Image courtesy of Bravo)

Follow Gina @ginascarpa and Allie @agiffes
For more The Fashion Show: The Ultimate Collection links, visit SirLinksALot.net