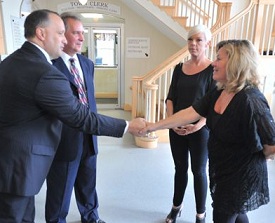 by Mike Bandy
Last night, Tabatha took over A Touch of Elegance Salon in Tewksbury, MA, a salon that has been in business for three years. Debbie, the owner, had suffered a staff walkout and has since been having a lot of trouble running the salon. The stylists all said that Debbie is the real problem, because she's very condescending and clients don't want to deal with her.

During Salon Undercover, Debbie stated that nine stylists walked out of the salon, taking valuable clients with them. This left her very much in debt, and she feels that the stylists do not appreciate that she's pounding the pavement to get people into the salon. The undercover cameras showed that the stylists wear flip flops even though it's against the rules (Debbie wears them too), and that the salon is buried under promotions and coupons. Debbie stated that she currently has twenty promotions running, and Tabatha said that it looked cheap and desperate.
At one point, a customer wanted her money back for a hair color, and Debbie refused to give her a refund. Another client came in with a coupon and waited for two hours in the chair before finally leaving, only to have the receptionist chase her down in the parking lot for payment for service she never received!
Tabatha took over the salon, and the inspection showed that there was nice design in the shop, and it wasn't dirty at all, just not organized properly. There were too many coupons and mailings in the salon, and Tabatha said that it was cheap. There are so many promotions running that sometimes the stylists don't make any money.
The next morning at the staff meeting, Tabatha finds out that Debbie's reputation in the town is terrible, and people think she's crazy, moody, and don't want to deal with her. She can't keep her stress under control, she is unapproachable, and she treats her staff like children. The stylists also said that Debbie won't pay for education, and feels that her marketing techniques are spot on, but the stylists find them stalkerish and insane.
The assessment of the stylists' work showed that they're all young and inexperienced, and that Debbie has browbeaten them instead of encouraging them. They're all very sloppy and need formal education. Debbie herself insulted a client during her consultation, and she ended up not being satisfied with her hair at all. Melissa, the administrative assistant, has run salons before and went to business school, but cannot talk to Debbie about making changes.
Tabatha took Debbie to the Tewksbury Country Club and spoke with Brenda, the head of marketing, about cross promoting their businesses. Debbie had worked with them before, but was selling her business at an event at the country club, which turned Brenda off. Brenda stated that there was a bridal show coming up and that she'd love to give Debbie another chance.
Next, Tabatha and the staff had an intervention with Debbie, during which they described how they felt about the salon, and Debbie's generally unapproachable attitude. Debbie was very defensive the entire time and wasn't listening to the staff, and Tabatha wasn't sure she'd get through to her. Debbie thinks she's been amazing to her staff and doesn't see why they don't appreciate her. In the end, she felt that the stylists threw her under the bus and disrespected her.
Tabatha kicked off the renovation by having Debbie and the stylists shred all of the coupons and letters, which was therapeutic for everyone except Debbie, who continued to make excuses. The reopening showed that the front of the salon was more inviting and it was easier for clients to find the reception desk. There were decorative accents, the shelves were stocked, and there was a color processing station. The back of the salon was turned into a manicure area, and in frames were all the shredded coupons and letters.
Tabatha presented a policy manual for the salon, and then models came in. The stylists' work had improved, but they need education. All of the stylists really liked all the changes, but weren't sure if Debbie would change for the long haul.
The final recommendations for the salon were for the stylists to have an education program, and to make Melissa part of the management staff. Tabatha also gave the staff a three day course at a styling academy, to kick off their education. Debbie promised that she will change, and wanted everyone to support each other.
Six weeks later, Tabatha came back to find that Debbie was in a good mood. She said that there is an education program and updated manuals, which she and Melissa worked on together. She's really trying to be a better owner, and the stylists were all really happy with the changes. Tabatha was really impressed and said that the salon is on its way to becoming successful.
Tabatha's Salon Takeover airs Mondays at 8/7c on Bravo.
(Image courtesy of Bravo)
For more Tabatha's Salon Takeover links, visit SirLinksALot.net