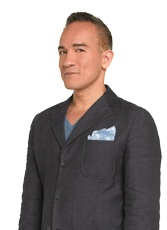 by Gina Scarpa and Allie Giffes
On this week's episode of The Fashion Show, we lost a very talented and ambitious designer. Cesar started off the competition strong, winning the first two challenges and (unintentionally) intimidating his fellow designers. Cesar was a great competitor as well as a great teacher as he was always willing to assist his fellow house members whenever they needed the help of a more experienced hand. There's no doubt that many people were rooting for Cesar, but there's no way that his influence in the fashion world ends with his elimination! At least, we hope not.
Q. Gina, RealityWanted: In the beginning of the show, we learned that you lost your partner to colon cancer about a year and a half prior to the competition. Your story touched many viewers, especially those who could relate to your situation. You said that you hoped The Fashion Show would be able to reintroduce you to the world of fashion - do you think that the competition was successful in doing so?
A. Cesar: Yes I do. Creating a household brand for yourself is so much easier through the magic of TV. People connect with you and your work. Who can pay for that advertisement?! I feel very proud of the work that I produced and how I handled myself in all situations.

Q. Gina, RealityWanted: The fact that you were always willing to lend a hand to your housemates was incredibly sweet, but did you ever get frustrated or feel like some of the designers were somewhat dependent on your skills?
A. Cesar: We were divided up as two houses/teams/businesses/families. You work together, support each other.....that's how it really works! And yes, there was frustration and concerns about the lack of experience by teammates and friends. You do what you can and that's what it's all about to succeed.
Q. Gina, RealityWanted: You obviously did a lot of teaching in this competition, but is there anything in particular that you learned from your housemates or the competition in general?
A. Cesar: The value of great patience from working under major stress... not just from the challenge, but from being put in a bubble of life, not knowing what is going on on the planet! It was a very surreal experience and very stressful, while still having to produce and be judged.
Q. Gina, RealityWanted: If you had made it to the finale, which designers from the competition would you have wanted to be standing next to on the runway?
A. Cesar: Jeffrey and Eduardo.
Q. Gina, RealityWanted: Who was your favorite designer to work with?
A. Cesar: Jeffrey.
Q. Gina, RealityWanted: Now that so many more people know who you are because of the show, what big plans do you have for your future in the fashion world?
A. Cesar: I walked out of the show and did creative direction and presented for Houston Fashion Week/Spring 2011 Collection. I worked for Levi's in Stockholm. I did Gwen Stefani's opening and closing looks for LAMB Spring 2010 runway show at MBFW. Gwen asked me to work for the Fall 2011 Collection, which I have been doing for the last couple of months. Now, I'm working on runway looks for February. I am also introducing my secondary label this upcoming market, "CZAR", and showing with MBFW. Life is good and I am forever grateful.
The Fashion Show: The Ultimate Collection airs Tuesdays at 10/9c on Bravo.
(Image courtesy of Bravo)

Follow Gina @ginascarpa and Allie @agiffes
For more Fashion Show links, visit SirLinksALot.net