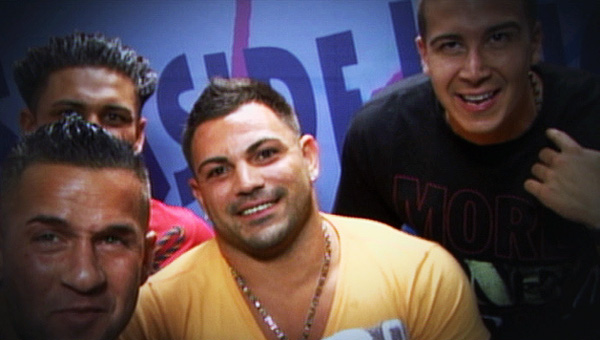 by Danae Young
This week on Jersey Shore, Snooki gets released from jail, Deena finds a Ronnie look-a-like and JWOWW ends her relationship with Tom.
Snooki got released from jail with no idea of why she was even in jail in the first place.
Snooki's dad was cussing her out on the phone because he is so disappointed in her.
Deena went out with MVP that night and managed to become the fourth member of the group, making it MVPD.
She started dancing with some guy that legit looks like Ronnie's clone.
Ronnie and Sammi were sleeping but Pauly D and Vinny thought they should introduce Ronnie to his clone so they woke them up.
While Deena and fake Ronnie started hooking up in the hot tub, Pauly D and Vinny thought of a ridiculous idea to write an anonymous letter to Sammi saying Ronnie hooked up with Deena in the hot tub. Good thing they were only kidding…
Snooki went out to Karma with everyone and it was the first time she was drinking since she got released from jail. She actually handled herself really just fine.
Who does JWOWW run into at Karma? Rodger and Lauren, who accused him of having a girlfriend last episode. The three of them sat down because Lauren found out she was wrong.
The next day JWOWW and Deena went to the boardwalk where they met up with Rodger and Alex.
Rodger and his friend Nick showed up at the t-shirt shop while Snooki and JWOWW were working. Now Snooki has a little crush on Nick.
Snooki and JWOWW went out on a double date with Rodger and Nick on the boardwalk.
Snooki took Nick to bed pretty quick, but she's been upset about the whole jail thing so Nick made her happy again.
Rodger spent the night with JWOWW but they didn't hook up.
The next morning Tom called and, since JWOWW has been having doubts about their relationship, the conversation didn't exactly go well.
JWOWW had to go home because Tom was moving out and no one was watching her dogs.
When she got there her bed was gone along with a watch she got as a graduation present and a bunch of other things.
Watch all new episodes of Jersey Shore Thursday nights at 10/9c on MTV.
 
(Image courtesy of MTV)
 
Follow Danae at twitter.com/danaeyoung
 
For more Jersey Shore links, visit SirLinksALot.net