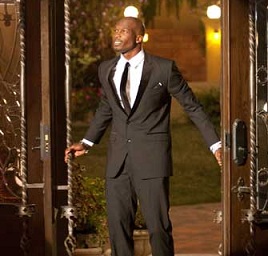 by Jackie Helm
This week on Ochocinco: The Ultimate Catch, the same final four competitors (for two weeks in row now) landed safely in Miami.  I realized Chad was delivering a big show shocker when he didn't eliminate anyone last week.  However, we love it when people get sent packing!
Chad brought his friend Rashad, and brothers, Bo, Junior and Chauncy to grill the girls at his place.  The question, "Who is the most hated?" made the crowd go wild.  The answer was, "Tara" due to her lack of seriousness about the competition.  Tara shot back with "shut the F up" and calling her competitors "idiots" and other expletives.  Such an ugly mouth for such a pretty girl.
A worthless mention is Tara asking Chad's crew if it was the "wife beater party" due to everyone wearing white undershirts.  If that wasn't dumb enough, Brittany thought it'd be cool to ask to wear a wife beater too.  Rashad gladly lent her one of his, although it had holes in it!  Ew! 
The guys chatted with each lady alone and the verdict they reported back to Chad was:  Tara's full of $h!t and wasn't serious, Tiphani seemed a little young, Brittany is cool, but Rubi is cool cool. 
Later the girls doll up for dinner but Brittany fell sick.  That left three girls to go out for dinner.  Chad took Tara outside for a 1:1 chat and finally sent her butt home!  That left two girls to go out for dinner…with Chad's mom!
Okay, back to Tara's impromptu elimination.  Chad was solemn and tried to get on a sincere level with Tara, but she just wasn't having it.  She said that she had shown her serious side that day when she made only 20 jokes opposed to 1,000.  She was surprised that Chad hadn't eliminated Brittany who looks like Sean Penn and doesn't think any of those UFC banshees are the girl for him.
Although, she said she did care whether or not she was there, Chad said he still isn't getting what he is looking for from her.  Upon Chad's dismissal of Tara, she quipped, "I'll pray for you."  He said I'll be alright but thanks for the prayer.  Thanks, but no thanks for the prayer!  Let's not forget that she prays for people to get struck by lightning.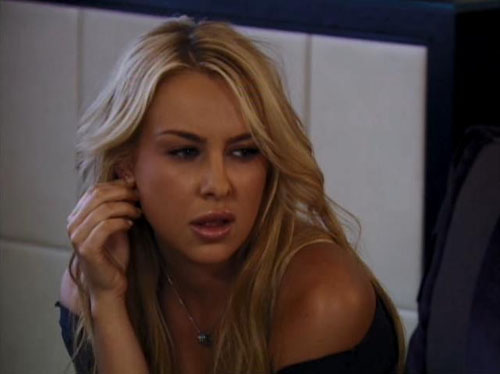 Tara's departure speech consisted of her "sort of" wishing Chad the best; however, she wished a slew of STD's upon the remaining competitors.  Geez Tara!
Back to dinner with momma; Tiphani and Rubi were on the stand.  Mom didn't hold back and got down to the nitty gritty.  She asked, "What kind of person are you? What do you like about my son? What are you gonna do about his 129 kids?"  Okay, just kidding he only has four children.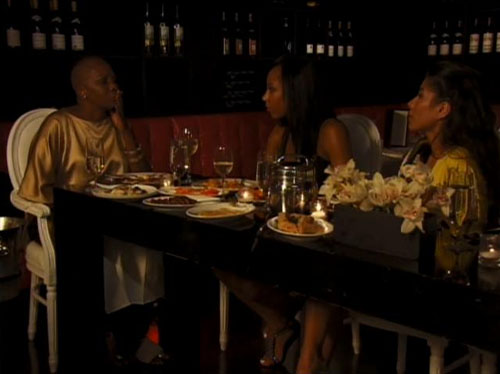 Tiphani struggled and stumbled with her answers, but Rubi was as smooth and as confident as she's always been.  This reflected on mommas' perception as she told Chad that Rubi was good to go and Tiphani was not.
With Tara gone, her match-up, sickly Brittany automatically advanced to the final two!  During elimination, Chad took his family and friends advice and also said he was going with his heart with his decision to keep Rubi over Tiphani.
Finally, it's showdown time!  Next week, it's Brittany vs. Rubi to see who will win the championship aka Chad Ochocinco!
Ochocinco: The Ultimate Catch airs Sundays at 9/8c on VH1.
(Image courtesy of VH1)
Follow Jackie at twitter.com/justjackieshow