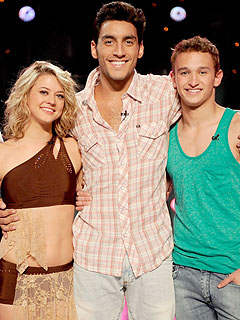 by Lindsay Strouse
It's crazy to believe that after 9 weeks, 2 injuries and a season of incredible dancing, we're already at the live performance finale of So You Think You Can Dance with the last 3 dancers-Kent, Robert and Lauren. The dancers performed 4 separate routines tonight in addition to a solo. It was an absolute love-fest from the judges' panel tonight and deservedly so! These guys hit it out of the ballpark and into outerspace tonight.
We first look back at the amazing journey the show has taken us on for the seventh time (cue emotional music, clips of the most incredible/embarrassing dancing I have ever seen, more clips showing the growth of the finalists).
Here's how the performances went down:
Dancers: Kent and Lauren
Style: Bollywood
Choreographer: Nakul Dev Mahajan
Song: "Om Mangalam" by Kambakkht ISHQ (Soundtrack)
As with every Bollywood routine where there is so much intricate movement, sometimes all you can do is deliver a cheese-tastic performance. In addition to giving an adorably endearing performance, Kent was spot on with the choreography and perfectly in tune musically with Lauren. It was a great and fun way to start off the night and gives America one more opportunity to see Kent in all his cute-as-a-button glory.
Dancers: Lauren and Twitch
Style: Hip Hop
Choreographer: Tabitha and Napoleon D'Umo
Song: "Power" by Kanye West
It's time for a presidential debate and I gotta admit-I was a little more interested in this one than the one in November! Although Twitch won the debate in my eyes, Lauren certainly put up a great fight and looked like she was having the time of her life. She left it all on the floor and made a really strong first impression. Mia Michaels gave her a reassuring compliment by noting her consistency and appeal to all choreographers.
Dancers: Robert and Mark
Style: Jazz
Choreographer: Tyce Diorio
Song: "Whip it" by Devo
I had a lot of fun watching these to guys light up the stage-literally. It had all the sharpness and energy needed and they fully filled up the stage. Robert's flexibility and strength continues to impress me and hopefully impresses enough of his fans!
Kent's solo
"The Finish Line" by Train
Kent has gotten a lot of trouble from the judges this season about his jazzy smiling face in every performance. This solo showed so much emotion and there wasn't a cheese-tastic facial in sight. Watching Kent dance makes me so proud and happy to call myself a dancer and I truly believe he makes every other dancee feel that way as well. Bravo, Kent!
Dancers: Robert and Lauren
Style: Contemporary
Choreographer: Dee Caspary
Song: "That Home" by Cinematic Orchestra
First of all, props to Dee for a beautifully choreographed piece. As for Robert and Lauren-they were perfection for me in this. Every lift and movement was so effortless and as Mia Michaels put it, this was the most "delicious" performance Robert has ever given. I felt so relaxed after watching them dance and I loved every minute of it.
Dancers: Kent and Lauren
Style: Jazz
Choreographer: Mandy Moore
Song: "Hip to be Square" by Huey Lewis and the News
This routine showed the epitome of Lauren and Kent's quirky and fun personalities. It was just a lot of fun-both for the dancers and the audience members. I didn't even care that there was very little challenge in piece for the dancers. During the package video we see Kent trying to steal another kiss from Lauren, and while he didn't get the kiss, he did get my heart.
Robert's Solo
Song: "The District Sleeps Along" by the Postal Service
Robert's heart is so big and it shows every time he goes on stage. He knows the perfect way to combine emotion and technique and personality. There's not one bad thing I can say about him.
Dancers: Kent and Allison
Style: Contemporary
Choreographer: Stacey Tookey
Song: "Sundrenched World" by Joshua Radin
Kent and Allison danced with such real and raw emotion it left me with a lump in my throat. They truly told a story with their bodies and Kent showed a maturity much higher than I've ever seen before. He is having such a spectacular night and transformed into a true and beautiful artist right before our eyes.
Lauren's Solo
Song: "I'm Goin' Down" by Mary J Blige
This is the third solo in a row that showed why these three dancers belong on this show and in the finale. Magnificant. Incredible. Fantastic. That's all I can say about the last woman standing.
Dancers: Robert and Katherine
Style: Broadway
Choreographer: Spencer Liff
Song: "Cool" from West Side Story
I'll be the first to say it-Robert has never been sexier than this moment (except for when he split his pants!) It was an exciting and sexy routine and I enjoyed it very much. Robert's strength is one of his biggest assets and he used it to its fullest extent. Spencer Liff took a big risk by choosing one of the best choreographed songs in musical theatre history, but it definitely paid off!
Dancers: Lauren and Pasha
Style: Cha-cha
Choreographer: Tony Meredith and Melanie Lapatin
Song: "Not Myself Tonight" by Christina Aguilera
Lauren is once again a man-eater tonight and she worked it out! There were some seriously sexy moves and lifts in this dance and they pulled it off like it was no sweat. For someone who has no ballroom training, it looked pretty professional to me! And next to Pasha-those two could have steamed up every mirror in the place!
Dancers: Kent and Robert
Style: Malevos
Song: "The Chosen/Drum Addict" By Taylor Long
This is the first time we've ever seen this style on the show and I can see why. The footwork was intensely intricate and difficult (and I have to admit, a little messy at times). Despite the few missteps, Kent and Robert clearly gave it everything they had in an uphill battle. After doing so much dancing tonight, I don't know how they had the energy they showed in this routine tonight. My hat goes off to you two!
After such an incredible night of dance, be sure to tune in to see who is voted America's favorite dancer (because I have no idea!). The So You Think You Can Dance finale airs tomorrow night, Thursday, at 9/8c on Fox.
Check out our exclusive video at the SYTYCD finale with Nigel Lythgoe and Flo Rida
(Image courtesy of Fox)
Follow Lindsay at twitter.com/LindsayStrouse
For more So You Think You Can Dance links, visit SirLinksAlot.net