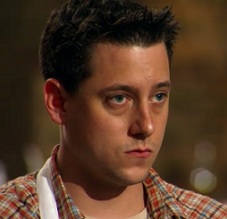 by Gina Scarpa
Tonight, on Master Chef, the contestants may have made it past the first round of the competition but half of them will be headed home by the end of the hour! In order to move on, they'll need to prove that they have the techniques necessary to compete for the title of Master Chef. Their first task? Chop an entire truckload of onions. The tears streaming down my face would be enough to form a small river!
Less than a minute into the first challenge, four people have already sliced their hand instead of an onion! Gordon stops contestants, either putting them through or sending them home. At the end of the round, six chefs are eliminated while the rest move on. It was a tense moment as Faruq and Hollie battled for the last spot, which ultimately went to Faruq after 90 minutes of chopping. The best moment, by far, came from Darryl, who managed to perfectly chop and slice his onions, despite having only three fingers. It's amazing and, as Graham said, an inspiration to everyone!
The chefs that passed the first test immediately move on to their next challenge. They'll have to cook the most basic food for any chef: eggs. Actually, egg. They have 30 minutes to cook a single egg and make an amazing dish out of it. They also only get to choose one egg so if anything happens to it, they're done. Pressure!! Cuts from this round include Darryl and Adeliz, who overcame odds in early rounds to make it this far.
The 14 chefs to move on are: Avis, David, Faruq, Jake, Jenna, Lee, Mike, Sharone, Sheena, Sheetal, Slim, Tony, Tracy, and Whitney!

Tune in to Master Chef on its new day and time, Wednesdays at 8/7c on Fox.
(Image courtesy of Fox)

Follow Gina at twitter.com/ginascarpa
For more Master Chef links, visit SirLinksALot.net