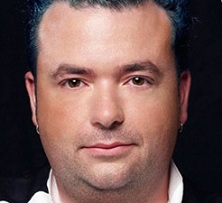 by Lindsay Strouse and Gina Scarpa
On the Hell's Kitchen season finale, Jay and Holli stood side by side in front of two doors. One would open for the winner while the other would not. Both chefs performed extremely well throughout the season, making good tv as well as dishes to serve to Chef Ramsay. In the end, Holli's door opened while Jay took second place. Today, we spoke to Jay in an exclusive interview about being on tv, his showmance with Holli, and what's next for this chef.
Q. Lindsay, RealityWanted: What made you want to try out for Hell's Kitchen? Did you watch past seasons of the show?
A. Jay: I did. I was a huge fan and a big fan of Gordon. I needed to be on tv and this was a great outlet for that.

Q. Lindsay, RealityWanted: The blue team, for the most part, worked very well together this season. What do you think was the secret to your success as a group?
A. Jay: I think it was the level of knowledge. Myself, Jason, and Ben have been cooking for a long time. I think the level of knowledge was higher than in past seasons.

Q. Lindsay, RealityWanted: Who stood out to you as your biggest competition?
A. Jay: I would say probably Ben. He's a good cook. He's got great personality too. Holli was a threat because she made great tv as well.

Q. Lindsay, RealityWanted: What is the extent of your relationship with Holli? Is it a showmance or is there something more going on?
A. Jay: It was all on camera. We were just good friends - that's it.

Q. Lindsay, RealityWanted: How did you feel about the returning chefs on your team for the final challenge?
A. Jay: I was pretty psyched. Everyone gets along with everyone for different reasons. Fran didn't get along with Gordon because of the skill level but I got along with her. Jason had trouble with Gordon but he tried and that's all I could ever ask for.

Q. Lindsay, RealityWanted: When you were waiting for the door to open and find out if you were the winner, were you feeling confident?
A. Jay: I was definitely not confident. You always are second guessing yourself. Part of me thought there was no way I could lose but then again, you never know because it's Hell's Kitchen. Hell's kitchen is its own entity.

Q. Lindsay, RealityWanted: How do you feel about Holli's win and her ability to lead at the Savoy Grill?
A. Jay: I think Holli is great. We became close and she's a great girl. She's younger and she'll do awesome. He wouldn't have picked her if he didn't think she could handle it.

Q. Lindsay, RealityWanted: Where are you cooking now and what's next for you?
A. Jay: I work at a restaurant called Gargoyles in Boston. It has funky American cuisine. I would love to open a restaurant or start a tv show. I would love to get something started. I didn't know how fascinating the whole process of television production was until I got on the show.

(Image courtesy of Fox)
Follow Lindsay at twitter.com/lindsaystrouse and Gina at twitter.com/ginascarpa
For more Hell's Kitchen links, visit SirLinksALot.net