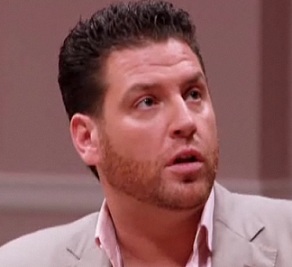 by Chandra Clewley
Tonight marked the season premier of 24 Hour Restaurant Battle. Think of it as Top Chef's "Restaurant Wars" challenge rolled into an entire show. Scott Conant, of Chopped fame, hosts the show. Two teams divide a warehouse sized room into two and have 24 hours to create a concept, plan a menu, design and shop for the front of the house décor and create their restaurant with a $4000 budget. They receive a staff to help but also must manage the staff. 
The premier battle is between two Italian families. First, Rosella, her mother Angela and her Nonna who is straight off the boat. They want to create a home-style Italian restaurant called Da Rosella. The second team is a brother and sister Anthony and Debra Jean along with Anthony's best friend Chris. They want to create a modern "nuovo" style Italian restaurant. They are given 24 hours until the doors open!
At first, Team Da Rosella come up with an overly extravagant menu including seven appetizers, two soups, two salads, two pastas, four main courses and four desserts. They go shopping and spend $1135.18 on the food which leaves them a good amount for décor. Once they get back to the kitchen, Rosella quickly realizes there is no way that her perfectionist Nonna will be able to make as many dishes as they wanted, and cuts the menu down to four incremental plates to showcase the home-style food they want to be known for. They are making an Antipasti of Sautéed Zucchini with Artichoke Hearts and Cauliflower. For the Primi they create a Penne Pasta with Fava Bean Puree, the Secondi is an Eggplant Parmesan and the dessert is Nonna's Wedding Cake.
Team Pesto realizes that they have several items that are a la minute, which means that it might get tricky once the restaurant is open. When they go shopping they go completely overboard, buying enough Rosemary to "kill a cat" and they blow more than half their budget at a whopping $2196.74. This leaves Debra Jean really worried about the décor of the restaurant and she has to cut corners just to get enough tables. Once back at the kitchen, they use some of the extra food to decorate with. The menu consists of an Antipasti of Buffalo Mozzarella Salad and Pasta Fagioli. The Secondi is Farfalle Porcini, Shrimp and Clams Fettuccine, Penne Pomodor, Veal Argosta and Chicken Piccata.  For dessert they will serve Tiramisu.
When the judges sit down at Da Rosella, Scott is "floored" by the "beautiful" food and says that it is "what it is all about" He even goes so far as to say that the food is "emotional" Marcus Samuelsson, guest judge, calls the food "technically amazing". The momentum slows a bit when the Penne hits the table. Scott is still pleased with the rough, peasant texture, but the rest of the group calls the dish "murky" and "heavy" and wishes for another pasta choice. The dessert is tasty, but after three bites, the judges admit they are tipsy from the alcohol in it.
The judges then make their way to Pesto where they think the pesto is over sauced and Marcus gets a raw piece of chicken. He also takes issue with the 30 minute wait time, when there are two tables being used for décor. 
In the end, both teams put a lot of love into their creations, but Da Rosella takes the win!
Catch an all new episode of 24 Hour Restaurant Battle next Wednesday at 10/9 c on Food Network. 
(Image courtesy of Food Network)
Follow Chandra at http://twitter.com/ChandraClewley