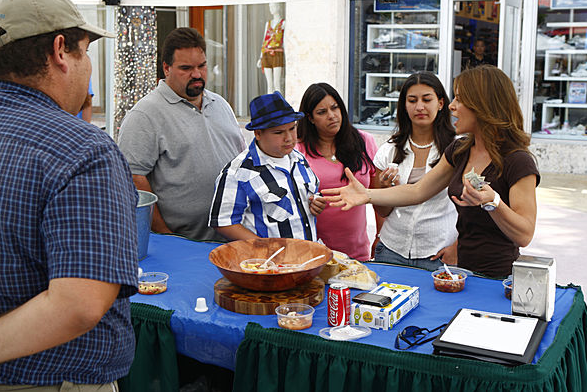 by David McAlpine

This week on the season finale of Losing It with Jillian, the Biggest Loser trainer takes on her biggest challenge yet with the Alvarez family, a Cuban family in South Florida with major issues. The son, David Jr., is already pre-diabetic at nine years old, and parents David Sr., who suffers from sleep apnea but doesn't use his machine, and Carmen think there's nothing they can do about it. In addition, both Carmen and David Sr. are more than 60 pounds away from being a healthy weight.

The Alvarez's sit down with Dr. Van Herle, who asks David Jr. to leave the room so she can give his parents a severe wake up call. In so many words, she tells David Sr. that he is at a high risk for dying and that he needs to have a sleep test before he can even start exercising.

Jillian arrives and gets a glance at the only physical activity the family participates in: a little bit of squash or tennis, which isn't nearly enough to satisfy a healthy requirement. Appalled, but not shocked, Jillian takes David Sr. to his sleep test so that he can be cleared to workout. However, Dr. Van Herle has devastating news: David Sr. stopped breathing for up to 31 seconds during sleep, some of the worst levels she's ever seen, so his exercise has to be limited.

Jillian is pissed, but she figures out how to work around it. She keeps David Sr. moving as much as he can and she starts to push Carmen, hoping Carmen can push David Sr. after she leaves. Per usual, Jillian is also shocked at the first dinner she eats with the Alvarez's, filled with fatty meat, salty rice and yucca coated in butter. Her solution? Tell everyone that they're killing their family, then toss it into the garbage.

Back in the gym, Jillian is still pushing Carmen, trying to figure out why she hasn't been gaining control of herself, David Sr. or her family. It takes a lot of yelling and the classic drag-me-across-the-floor technique, but Carmen finally reaches her breaking point and sees that she needs to regain her strength to be a leader for her family.

In a more touching moment, Jillian focuses on making sure David Jr. is ok, because she can see a lot of her younger self in him. She's worried he's going to get diabetes, so she takes that back to David Sr. and Carmen, who fight over her nagging and his constant resistance. Jillian tries to highlight the problems and open up communication, which seems to start working. David Sr. even makes David Jr. put his sleep apnea mask on to scare him into getting healthier.

Back to David Jr., Jillian takes him to a martial arts class because she says that's what helped her get so disciplined about being healthy and fit. David Jr. loves it and David Sr. loves watching his child enjoy something so much.

Now that she's worked on their communication skills, Jillian takes the Alvarez's to the local farmers' market to show them how to shop. She's genuinely shocked when she finds out they've never had an avocado and that they rarely eat vegetables (though really, this is basically the 8th week in a row--can't she see a pattern by now?), so she gives them tons of healthy tips.

David's 10th birthday rolls around and Carmen cooks lots of healthy food with a Cuban flare, which majorly impresses Jillian. She's happy to see the family finally coming together instead of being torn apart by multiple sicknesses. But just to make sure it stays that way, Jillian brings them all to the beach and puts David Sr. in a boat. Then, she makes Carmen, David Jr. and daughter Melissa pull him across the sand. Lesson learned the Jillian way: you need to work together as a family.

Six weeks later, Jillian is back and the Alvarez family is looking good and feeling good. Carmen and David Jr. have both lost 25 pounds and David Sr. lost 54 pounds and is off his blood pressure medication. David Jr. has even started an afterschool health program at his school, which Jillianmichaels.com agrees to help fund. In addition, now that David Sr. can work out again, Jillian gives him one last run in the gym.

(Photo courtesy of NBC)

Follow David on Twitter: twitter.com/davidmcalpine

For more Losing It with Jillian links, visit SirLinksALot.net.