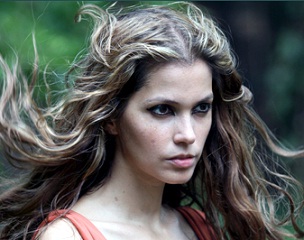 by Kristal Bailey
This week on Double Exposure, Markus & Indrani have their first Cosmo shoot and they're setting up a "Best Of" gallery exhibit.
Working with Cosmo, they have to do without GK and work with Michelle McCool from the magazine. This shoot is different than their usual work because it has to be so structured and a bit censored to succeed. They are working with one of the top magazines in the world and they have a standard that needs to be lived up to.
While Markus & Indrani are doing the Cosmo shoot, GK will be working on a fashion show for Thuy. Even though they are on the same day, Indrani is persistent that she and Markus will be able to finish the shoot in time to catch the show. They set up all the shots beforehand and left for the fashion show, planning to be back by the time the model arrived and had her hair and makeup done.
The fashion show looked great and went off with out a hitch. However, it ran a bit longer than they had planned and the photoshoot had to be put on pause until they returned. Cosmo was a bit annoyed, but hopefully the rest of the photoshoot puts them back in their good graces. They have only 2 hours to complete 5 amazing shots.
Somehow, they get all the shots they needed, just in time for the model to make her flight. The shots turned out fabulous, as usual, and Cosmo was very happy in the end. Also, because they were so rushed and had set all the shots up together beforehand, there was very little fighting. It was very refreshing!
Thuy, from the fashion show, now wants Markus & Indrani to do the photo campaign for her fashion line. While discussing ideas for the campaign, Indrani convinces Thuy that India would be the perfect place for the shoot. Finally, after 15 years of trying to persuade Markus to go to India, he has no choice but to go. Thuy also springs Indrani with the idea that SHE should be the face of the campaign.
They arrive in India and Markus hates it after the first step on Indian soil. It's too hot, it's too smelly, it's too crowded, and on and on and on. Indrani leaves to get Rupees to tip the cab drivers and bag handlers, but Markus decides to take things into his own hands and tips them US$40! Most tips are a few rupees, equal to 25 cents.
They are staying with Indrani's father, so we get her family story. One of her great ancestors lived the rags to riches tale and became a prince. But over the generations, it has all fallen apart and been sold by relatives who squandered their fortune. While Indrani loves it and it's lessons, Markus is scared for his life because of the goats, refuges, and ruins. He's so out of his element with no assistants, no computers, and no Indrani to help since she's modeling. He has the added stress of Indrani being super critical of the shots and GK being her right hand.
Markus' attitude is hindering their ability to take more varied shots and be more creative. He just wants to get it done as fast as possible. After the shoot, Markus decides to do a photoshoot of the SeeSchool's students as a sort of peace offering. The school means so much to Indrani and her father; they have worked for 11 years to keep refuge children in school instead of working the fields or factories.
To end the season, we get an inside look at Indrani & Markus' show that features the highlights from their 15 year career. It served as a reminder of how great their partnership can be. Their fights may be annoying and tiresome, but they do lead to producing great photographs.
And with that, the first season of Double Exposure comes to an end.
(Image courtesy of Bravo)
Follow Kristal on twitter at twitter.com/kristal_bailey
For more links on Double Exposure, visit SirLinksALot.net