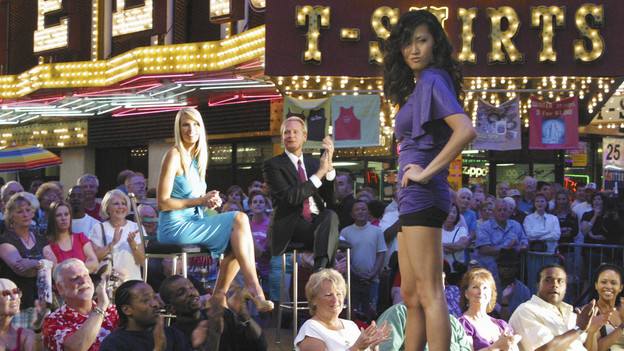 by Danae Young
This week on True Beauty, only four contestants remain in the competition for the "Face of Vegas" title.
The fantastic four played Truth or Dare the morning after face-off. Then, they headed down to the pool to have some drinks.
Well, for Taylor it was a little more than everyone else. He tried to kick a beach ball and slipped on the pavement; it was pretty hilarious if you ask me.
The challenge for this week was a matter of math. Each contestant was taught how to be a Blackjack dealer and had to put their skills to work. Of course, there were hidden challenges along the way.
The first hidden camera challenge took place on their elevator ride. A pregnant woman named Rosanne was with her friend in the elevator ride as well. She had a cocktail and cigarette in her hand. The challenge was to see if anyone said anything to her.
Taylor – PASS
Craig – FAIL
Erika – PASS
Amy – FAIL
The next hidden challenge was when each contestant was in the training room learning how to be a Blackjack dealer. Glenn, who posed as the pit boss, was mean to the person training each contestant. Each contestant had to step in and defend their trainer in order to pass.
Amy – PASS
Erika – PASS
Craig – FAIL
Taylor – PASS
Each contestant was judged on their dealer skills, appearance and customer satisfaction.
It was up to Planet Hollywood's pit boss to choose the fate of the winner and bottom two of the challenge.
The winner was Erika and the bottom two was Craig and Amy.
In the hidden camera challenge before face-off, each contestant encountered a woman outside named Shannon who was having trouble packing up her car. The only way to pass this challenge was if they helped Shannon out.
Amy – FAIL
Craig – PASS
At face-off, Craig was announced safe, which means he will join Taylor and Erika in the finale.
Amy used up her last pair of eyelashes for this competition and was sent home.
Watch all new episodes of True Beauty Monday nights at 10/9c on ABC. 
(Image courtesy of ABC)
 
Follow Danae at twitter.com/danaeyoung
 
For more True Beauty links, visit SirLinksALot.net