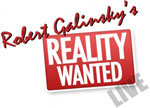 RealityWanted.com and the New York Reality TV School have joined forces to produce "RobertGalinsky's RealityWanted", an online radio show featuring all things reality TV, and will feature interviews with Chad Ochocinco of VH1's "The Ultimate Catch", the sister stars of TLC's "DC Cupcakes", casting director of "Biggest Loser", Terence Noonan Emmy Winning Producer of the Dr. Oz Show (DC Cupakes as well) and live on air auditions for the new pilot "Fairly Job Mother" this Wednesday July 14th 6-8pm EST.

Cincinnati Bengals star wide receiver Chad Ochocinco (formerly Chad Johnson) is using his off-season to pursue happiness off the field in his new VH1 original series "Ochocinco: The Ultimate Catch." The series is a mix of Ochocinco's on-field charisma blended with the drama of the dating pool played out in a bracket-style dating tournament. 



DC Cupcakes stars, Sophie LaMontagne and Katherine Kallinis risked their life savings and traded high power careers in fashion and finance to pursue their passion for baking and their lifelong dream of opening a bakery. Armed with their grandmother's recipes and strong family support, the sisters opened Georgetown Cupcake on Valentine's Day 2008. To their surprise, the shop became an overnight sensation and now sells more than 5,000 cupcakes a day. DC CUPCAKES shares the recipe to Sophie and Katherine's sweet success, following their journey as they navigate the challenges and rewards of building a booming cupcake business. Each half-hour episode goes beyond the frosting to capture the behind-the-scenes drama in their fast paced, family-owned bakery.

"Robert Galinsky's Reality Wanted" is a humorous, informative, opinionated and often outrageous online radio show that features conversation about the world of reality TV! With unparalleled access to reality TV industry insiders, veterans and stars, casting directors, fans and producers- "Reality TV guru" and ring master Robert Galinsky holds court with co-host and "tastemaker"Jess Zaino, west coast "Social Media Jockey" Mark Yawitz and surprise guests from such reality shows as: Shark Tank, Big Brother, The Bachelor, America's Next Top Model, Survivor, Amazing Race, FOX's Solitary, The Apprentice, Hell's Kitchen, Project Runway, Bad Girls Club, Sober House, Secrets of Aspen and more.

TUNE IN WED JULY 14th from 3-5 pm PST HERE 
For Immediate Release:
Contact: Adrianne Carlyle
646.372.8666, [email protected]
*available for print, blog, TV, radio interviews