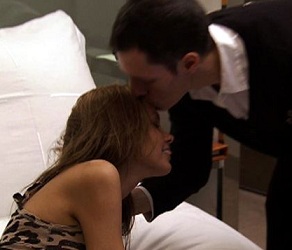 by Kristal Bailey
This week on Double Exposure, Indrani and GK are continuing to explore their budding relationship while Markus works his magic on aspiring model, Zonna.
The first photo shoot is of Brooklyn Decker for Modern Luxury Group - high-end fashion, lifestyle magazines all over the country. It's a classic set up with a white background, beautiful classic fashion, but with interesting make up and hair to make it stand out. While doing Brooklyn's shoot, Markus wants to shoot Zonna in the breaks. It's an awkward situation since the priority should be Brooklyn, but Markus was trying to impress and help out Zonna. While helping out Zonna, he's jeopardizing the job and offending Indrani and GK. By having her on the set, they're risking Brooklyn and her people being upset about sharing their time with this other model.
Brooklyn took amazing photos full of movement. Comparatively, Zonna looked sad, scared, and unsure. She barely moved and didn't provide much variation between the shots.
Later that night, Indrani and GK bond over Markus' shenanigans. Indrani feels guilty about breaking up with him and puts up with his antics because of it. Then it takes a serious turn with Indrani opening up about the bankruptcy and if working with Markus is worth all the trouble. When Markus walks in, everything gets real and they confront him. They confront him about the finances, frivolous shoots, and partying. After he confesses that he loves working with her and will work on improving everything, he still wants to go to a fancy dinner with Zonna. He completely lacks understanding on how to stick to a budget.
For their next shoot, the team travels to Los Angeles to work with Marlies Dekkers - an edgy swimsuit and lingerie designer from Holland. She wants the photos to convey that women are strong, self-confident, and beautiful for themselves instead of for men.
The location for the shoot is amazing! The Goldstein House has been in countless fashion layouts and The Big Lebowski. It mixes modern architecture with nature and the city. In trying to set up the shot, another huge fight blows up about lighting and who should take and give direction. Markus even threatens to leave! Luckily, GK comes in and mediates, so everybody calms down to get the shot done.
They took 5 hours to set up the first show, leaving only 3 hours to capture the remaining 6 looks. Shots include a "Queen of the Jungle" look in the foliage, on the roof with the city in the background, inside the shower, and on a ledge between two windows. For the swimming pool shot, none of the assistants followed directions to test out the step setup. Finally, the designer's husband jumped in the pool to test it out himself.
The last shot is the most complicated - capturing the model while she's under water, through the windows in the kitchen. If they go into overtime, that's going to be another $30-40,000. In the last seconds, they finally got the shot.
At the end of the day, GK held everything together and was a huge support to Indrani.
Catch Lady Gaga and Naiomi Campbell photo shoots next week. Tune in to Double Exposure every Tuesday at 11/10c on Bravo.
(Image courtesy of Bravo)
Follow Kristal on twitter at twitter.com/kristal_bailey
For more links on Double Exposure, visit SirLinksALot.net