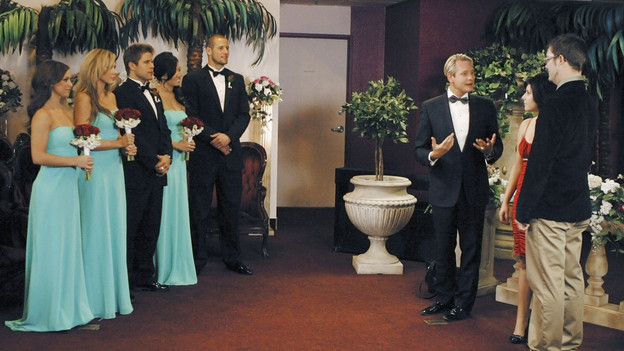 by David McAlpine
This week on True Beauty, the competition got fierce with only five people competing to be what they think is the "Face of Vegas." Everyone is in the suite, anxiously awaiting the return of Liz or Michelle. Craig wants Liz to come back, but everyone else is rooting for Michelle.
Michelle walks through the door, much to the disappointment of Craig. Everyone else is really excited and they start to party before the next challenge. Somehow, Craig and Taylor both end up naked and we learn that this isn't the first time that they've shown their bare assets to everyone. Being the only two guys around three girls, the females are grossed out by their desire to be free.
The theme for the week is weddings, because what's more iconic in Las Vegas than shotgun marriages, right? Beth and Carson are in full wedding regalia and it's time for the hidden challenge. While the contestants are preparing to look their wedding best, the producers have placed a momzilla outside the dressing room, criticizing her overweight daughter for not losing weight. The test was whether or not they said anything to make the girl feel better.
I must say, this wasn't really a hard challenge, the girl was looking very down as all the contestants passed and the mother was, for the lack of better words, a giant bitch. Michelle passes and says nothing, but Craig tells the girl her dress looks pretty, earning him a pass.
Amy fails, too, by not doing anything. Erika goes above and beyond and gives the girl an entire pep talk, earning her a giant checkmark. Taylor, however, laughs in his dressing room, failing him, too.
We all know that doesn't really matter, now, because the challenge is for safety. Before the challenge, Craig leads a faux wedding between Erika and Taylor and botches it, making very awkward comments. Back to the challenge, which was basically telling a couple who's about to get married why they should pick them to be in their wedding. The last two contestants to participate in three weddings would be headed to the elimination room.
Erika has a strategy right off the bat and tries to build rapport with the bride, which fails. Craig and Michelle, instead, get the first point. Amy starts to get frustrated because she's not making a connection with anyone, and Taylor starts playing up his baseball career. Taylor and Erika rack up the next two points, putting them in the lead. Craig and Taylor get picked by the next couple, giving Taylor the win and putting Amy and Michelle in serious danger.
Craig and Amy get lucky with the next couple who happen to be named Craig and Amy, giving Amy her first point and earning Craig safety. The last couple picks Erika and Michelle, putting Amy and Michelle in the bottom 2. Amy starts to cry because she never thought she'd be this bad at something, while Michelle is confident she can be the first person to survive the elimination room twice.
In a well-timed comedic break, Erika tries to teach Taylor how to walk like a girl by "leading with your boobies, not your business." And he fails. Just another True Beauty moment, right?
The judges sit down to discuss Amy and Michelle, who seem to be neck and neck in terms of failing challenges and major slip-ups. So, as always, it seems like it's going to come down to the "final straw," which was tested earlier in the day.
While each contestant was getting ready, someone posing as one of the bride-to-be's friends offered to tell the bride to vote for them. Would Amy or Michelle take the bribe? Amy laughs it off and tells her it's ok, saying she'd rather win on her own merit. Plus for Amy!
Back to the elimination room where, after airhead speeches about why they want to be the "Face of Vegas," the two find out that Michelle is going home. Amy flips out and can't understand what's going on, while Michelle is pissed. Afterwards, we find out Michelle was the only contestant to take the bribe, which is a major ouch for her.
As the burn reel rolls, Michelle chokes up, upset that this is how America is going to see her, because apparently she would have been nice if they told her that's what the show is about. Did she not just get what Vanessa just said? I'd be embarrased if I were her, too.
Tune in next Monday at 10/9c to see which contestant is the next one eliminated on True Beauty, only on ABC!
(Photo courtesy of ABC)
Follow David on Twitter: @DavidMcAlpine
For more True Beauty links, visit SirLinksALot.net.