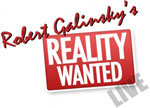 by Dana McBeth
 
Robert Galinsky's Reality Wanted (Episode 31) opened with Katie MacIntosh (Mac Worldwide, Inc. |M'Action Casting) who has cast some of the most popular and highly rated reality programs on television including The Real Housewives of Orange County and LA Ink. She is now casting a new show called The Step Family Project- and she is searching for type A kids from soon to be blended families. The children of the family will be using their own pocket cameras to record the real side of their story- visit their Facebook at "The Step Family Project", twitter or email [email protected]. We were also treated to a RealityWanted.com "success story" as Brian Holler called in, at the urging of correspondent Maureen Francisco, to tell us about his recent bookings off the site!
 
We premiered a new feature from the blog "Not Here to Make Friends" and our 2nd guest, RJ Larese of Iconic Casting, told us among many things, that he uses his expert eye and interviewing skills to cast for the Tester: Season 2, for Sony Playstation. We turned him onto AllGames.com as a source for possible gamers to cast too. RJ has worked on shows from NBC's Deal or No Deal to STYLE's Jerseylicious.

In the 2nd hour we were joined by casting director Vinnie Potestivo of MTV's Vinnie Potestivo Entertainment. He is currently casting for the hit show, Millionaire Matchmaker and informed us of the last open casting call that will be taking place on July 16th at The Polar on 23rd and 3rd avenue here in New York City. Vinnie also did a live in-studio audition with another New York Reality TV School student, Ashley Wilson, and he and Host Robert gave Ashley some great casting advice live on-air. Who knows, she just may get cast! The show wrapped with Valerie from Cape Cod calling in to tell us she is producing the Jewish reality show, In Over Our Heads, which she describes as "Real Housewives of orthodox Judaism". The show is available on Jewish life TV Network, Direct TV and can be seen at www.inoverourheads.com.
Tune in next Wednesday 6-8pm EST for Robert Galinsky's Reality Wanted online radio! Listen in at realitywanted.com/radio and call in to talk to them live 877.242.8212!