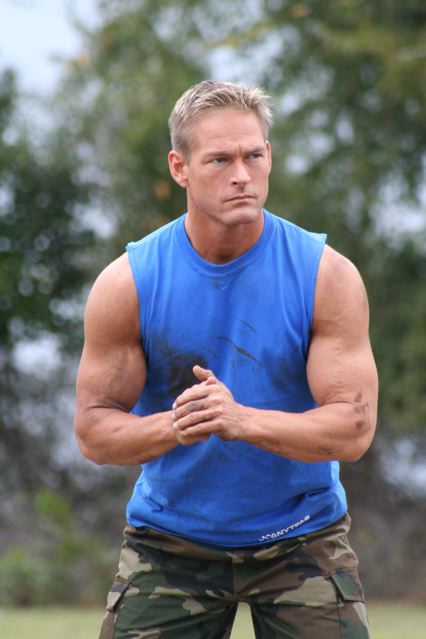 In the 5th episode of Bridal Bootcamp, green team and blue team hit the training hard. Green team is down to two people, Kacey and Melissa. Blue team is left with three teammates, Amberly, Jamie and Tesha (AKA mama T).

Green team realizes they need to take their training up a notch if they want to beat Blue. Meanwhile, Blue Team continues to train like rock stars and you can tell their self-esteem is climbing – literally! In Blue Bridal Party's training, Steve had his team climbing a 12-foot rope to build their strength and their self-image. They rocked the workout and it's clear they are ready for the next marital mission.

When the future brides got the invitation to the Marital Mission, they had no idea what to expect. The invitation said they were going to put some of the weight back on. Eeeek!  This sure got Tesha thinking.

When the girls walked out to face Cynthia Conde, they were hit with a big surprise – they were going to compete as individuals, instead of teams. For the first time they weren't going to have their teammates support, win, or lose as a team. Not only that, both the trainers stripped off their team colors, unveiling the neutral black shirts which would be represent their neutral position in the competition. This was going to be different.

Then there was the next surprise. Under the green and blue sheets was something they never expected. The sheets go flying off and they are facing wax mannequins of their spouses!! This scene cracked me up! I thought I'd die laughing when Tesha talked about their funny looking fiancés. She continues to crack me up!

So the brides were to don their spouses on their back and run the obstacle course, leaping over walls, going across the monkey bars, running through the tires and climbing under obstacles – all with their spouses on their back! I could tell this was going to be one funny challenge.

First, I have to tell you that Steve and I have that obstacle course at our health club, so we know how hard it is to go through without the extra baggage (sorry boys!). I've seen so many people slip off those monkey bars and trip on those tires – I can only imagine how challenging this competition was.

Of course the Green Team got the challenge again, by answering their fiancé's question correctly so Melissa gets to set the fastest girl on the Blue Team, Jamie, back 10 yards. That didn't matter though because despite Jamie's disadvantage, Jamie rocked that course – flying by Kasey who had the lead and all her other opponents.

I think the shock was watching Melissa struggle and break down. By now, we all know Melissa has the drive to be a possible winner of this whole competition. She has been fighting hard, and even dirty, so to see her not be able to get across the monkey bars was a surprise. I also thought it was cool to watch Steve try to encourage her since she wasn't on his team. Finally, one of my favorite parts was seeing the Blue Team root her on along side Kacey. This goes to prove that even though they all were fighting to win their dream wedding, there was still a mutual respect for each other and how hard they all have worked to lose weight and get in shape. THAT'S what boot camp is all about.

Although boot camp is about supporting one another, it's still reality TV and there has to be a winner and a loser at this camp. Jamie went from dead last to first place in this competition! So Jamie, Kacey, and Amberly's performance in this challenge kept them out of the fitting room. Unfortunately though, the rest of the competitors, Tesha (Blue), Melissa (Green) and Kacey (Green) were going to be facing the chance of going home.

After the weigh-ins, Tesha and Melissa were in the bottom two and both the trainers were forced to tell Cynthia who they thought should stay in the competition. Francesca, of course, votes for her team member but Steve shocks us by suggesting Tesha go home. Really, are you voting your own team member off? I guess I do see how Melissa has never wanted to give up so I guess that wouldn't be fair, but I personally wish Tesha could have stayed and somehow I think he feels the same way (a little birdie told me).
Visit www.vh1.com and join me on twitter, www.twitter.com/bonniepfiester, or on facebook, www.facebook.com/bonniepfiester, for up-to-date news and more on Bridal Bootcamp. For information about Steve's boot camps, visit www.StevePfiester.com. Steve also leads weekend boot camp retreats at Gloria Estefan's Florida beach resort for those of you who would like a crash course on getting fit. For more about his retreats, recently featured in Fitness Magazine, visit www.aboutfaceretreat.com.