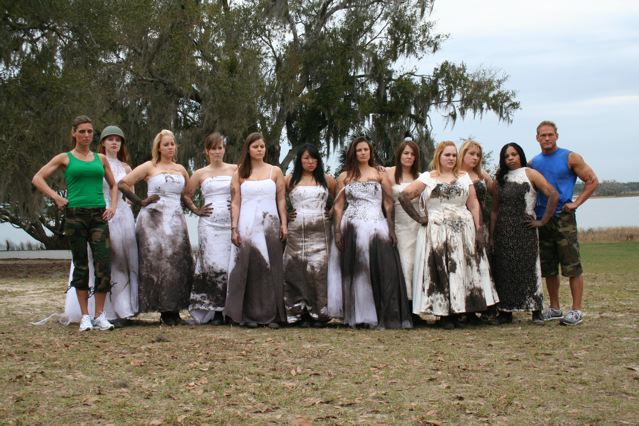 by Bonnie Pfiester



The contrast between the two teams is definitely evident in this episode. While the Green Team is shown playing beauty shop, the Blue Team is training like military machines. Blue Team Trainer, Steve Pfiester, leads a kickboxing routine at camp, which we find out later comes in very handy when facing their next Marital Mission. For once, the Blue Team seems to be jelling without complaints.

Right when we think the Blue Team has finally reached the peak, Tara gets a phone call from her mom – Tara's grandmother is dying and her family wants her to come home. Tara is forced to give up at the chance of winning her dream wedding to be home with her family. What a surprise this was, but Blue Team supported Tara's decision and said their goodbyes. Now Blue Team no longer has the advantage and it's an even playing field between Blue & Green – 3 to 3.

Boom, Bam, Bang, it's already time for the Marital Mission, called "The Ring of Engagement". This show goes way too fast. I vote for it to get stretched to an hour next season. OK, so this Marital Mission takes the cake – literally! This challenge has the brides wrestling in a 15 by 15 foot cake! Now THIS is entertainment. These girls can finally beat the crap out of each other AND have cake too? How sweet is THIS – pun intended! Once again, Green Team gets the advantage in the challenge by answering their question right. This makes 4 weeks of Green Team getting the advantage in the weekly challenge.

Let's get ready to rumble! I wanna see some cake slinging, eye gauging, body pinning action. Darn it Cynthia, you had to take all the fun out of it by adding all those rules, "no punching, no kicking, no spitting, no scratching, no hair pulling or eye gauging". Well, despite the rules, these brides do not disappoint.

First up is Amberly from the Blue Team against Kacey from the Green Team. Amberly throws Kacey down into the cake like a ragdoll, winning the first round. Amberly wasn't going to even let Kacey breath. I guess she really wanted those flowers. Next up is Melissa from Green Team fighting Jamie from the Blue Team. Even with Melissa's weight advantage, Jamie's athletic strength proves to be the icing on the cake. With a little smack being talked from the sidelines, Jamie is reminded Melissa can afford her own flowers. Maybe that's what got Jamie going - because while Melissa had a strong start, seconds later Jamie yanks Melissa to the ground, winning the 2nd round.

Last up is Blue Team Tesha, AKA "Mama T" against the Green Team singing princess, Courtney. Courtney should have known she didn't have a chance just by the look on Tesha's face. She would have been better off if she just waved the white flag because Tesha looked like she coulda killed someone for those flowers. Victory tasted very sweet for Tesha for two reasons – she won the last round, making the Blue Team the winners of this week's Marital Mission, and she got to have her cake and eat it too, licking the icing right off her hands. "Thank you Jesus!" Tesha cracks me up every episode. This makes 3 wins for the Blue Team and only 1 win for the Green Team. Go BLUE! (Go hubby!)

Final weigh-ins seem kind of lame compared to other huge shows with huge people, where they do weigh-ins every 14 days and call it a week, but most of them lost 2 and 3 pounds this week which is freakin' great in the real world.

So far Jamie's lost a total of 15 pounds, Tesha lost 12 pounds and Amberly 13lbs in 4 weeks. This is a 3lb-3.75lb per week average. That's amazing, and also very realistic for an aggressive fitness program. Green Team has similar results, with Melissa losing the most – 20lbs in four weeks. That's incredible Melissa! Kacey and Courtney aren't quite as successful so they are in the bottom two. Although Courtney loses more weight than Kacey, Courtney's lack of drive and effort to be there for her team is ultimately what makes Cynthia decide to send her home.

So here's who's left in the competition: Amberly, Jamie & Tesha from the Blue Team and Melissa and Kacey from the Green Team. As the Bridal Bootcamp sheds the extra baggage, this competition gets closer by the episode!
Visit www.vh1.com and join me on twitter, www.twitter.com/bonniepfiester, or on facebook, www.facebook.com/bonniepfiester, for up-to-date news and more on Bridal Bootcamp. For information about Steve's boot camps, visit www.StevePfiester.com. Steve also leads weekend boot camp retreats at Gloria Estefan's Florida beach resort for those of you who would like a crash course on getting fit. For more about his retreats, recently featured in Fitness Magazine, visit www.aboutfaceretreat.com.