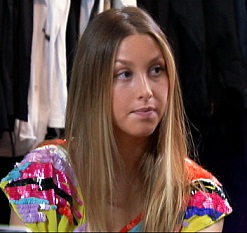 by Gina Scarpa
Last night, on The City, Whitney prepared for a big fashion trade show in New York. Kelly did a little role play with her and if the buyers are anything like the way she was acting, Whit is gonna have to toughen up and becomes a serious saleswoman - quickly!
Olivia heads out shopping to find shoes and accessories for Ke$ha's cover shoot with Elle. She finds inspiration at Trash and Vaudeville... well, inspiration after lunching with Louise and hearing her ideas for what would look great for the shoot.
Whitney and Roxy gets to work at the fashion show, pulling items that buyers at the boutique WiNK might be willing to buy. It seems like the ladies are interested and it's a step in the right direction for the Whitney Eve line. Just the idea of having her clothing sold in stores is a prospect that really excites Whitney and you can't blame her. Kelly shows up to offer her support and help make some sales. When a buyer asks to see come of the clothes modeled, Kelly insists that Whitney change right then and there to make the sale. Like Mama Wolf said, it doesn't hut that the girl behind the line looks like a model herself.
Just when it seemed that things were going well for Whitney, she's informed the next day that one of her biggest purchases fell through. She immediately blames Roxy, who was responsible for taking the order and storms off. Instead of being angry and bitter that her best friend threw the blame on her, Roxy goes out to WiNK and tries to sell the inventory from the purchase that didn't go through - and was a success! That's a good friend and an even better employee.
Olivia's picks for Ke$ha's shoot go over really well with the pop star and Elle but Erin isn't convinced that she came up with the idea all on her own. When she basically calls Olivia out for stealing ideas from Louise, Olivia turns around and assures her that her plan to pit the two faces of Elle.com against one another didn't work at all.
The City airs Tuesdays at 10:30/9:30c on MTV.
(Image courtesy of MTV)
Follow Gina at twitter.com/ginascarpa