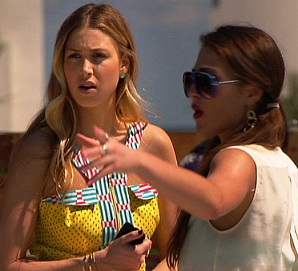 by Gina Scarpa
This week, on The City, Roxy and Whitney head to Fashion Week in Miami without Kelly (or anyone else from People's Rev for that matter) to see how they fare on their own. They'll have to put the entire Whitney Eve show together from casting models to selecting runway music to making sure everything goes smoothly on the runway. It's a big responsibility but Kelly has faith in them... now I just hope they can pull it off.
Olivia is called into Joe's office to get a good talking to - well, not really. As we've seen all season, Joe has no ability to establish authority over Olivia and continues to give her endless amounts of chances to prove herself. For this "last chance", she'll have to grab superstar designer Zac Posen for an interview at his upcoming party. He promises that if she doesn't deliver, she'll be looking for a new job soon.
In Miami, Whitney and Roxy get to work casting models but are told by GenArt that they can't s hare models with other designers. Apparently, those words fell on deaf ears because a rival designer tries to steal the girl that Whitney wants to use at both a party later that night and the runway show the next day. Whitney steps up to the plate and fights for her girl. Way to have a little Cutrone in you, Whit!
Olivia proves once and for all that she does, in fact, have connections. She pulls Zac Posen aside at his party, throws her arm around him, and turns on that smile as the camera rolls. She asks some good questions, the interview flows nicely, and all in all, she did a good job. However, when the tape of the interview is shown to Robbie back at the office, she calls Olivia a "show pony" instead of a "work horse". Erin breaks out the tape of Louise's interview at the Badgley Mishka show and it goes over very well. Robbie wants Louise to come in and start doing more work with Elle. A point for Erin.
Whitney and Roxy network with a local boutique in Miami to try to get them to buy the Whitney Eve line. The women from the store head to the GenArt party and fashion show to check out the work of the designers being featured.
The day of the fashion show, things are chaotic (as you might expect) backstage but the people of GenArt are completely rude to Whitney and Roxy, refusing to answer their questions or even speak to them! When the girls confront the GenArt peeps, they're defensive and snarky. Not a great representation of an organization that celebrates talented people in fashion, film, art, and music.  The show ends up going off without a hitch though and the buyers from the boutique have decided to invest in Whitney Eve. SUCCESS!
Louise shows up at Elle to begin working and instead of letting her jealous rage show, Olivia charms the pants off of the Brit and asks her to go to lunch. As the two stroll off together, Erin looks on, wondering if she just helped Olivia form a new alliance.

The City airs Tuesdays at 10:30/9:30c on MTV.
(Image courtesy of MTV)

Follow Gina at twitter.com/ginascarpa
For more The City links, visit SirLinksALot.net