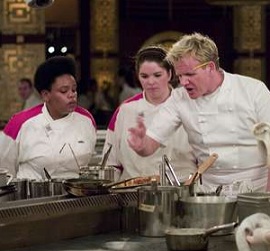 by Gina Scarpa
Tonight's two hour Hell's Kitchen episode got underway a bit late due to the president's speech. In the first hour, Chef Ramsay was unhappy with the communication between the chefs. In order to see everyone work as a team, he gave them a very simple task: serve lunch, with a basic menu, to a group of USC marching band members and cheerleaders. The first team to finish wins. Simple as that.
The red team gets their salad out, while Jason can't send a salad out to a table to save his life. It's salad - how hard can this be? Apparently, he's bitter over an earlier tiff with his team and some people think he might be trying to sabotage them on purpose. That seems a bit paranoid, though. The women start to fall apart with their burgers, thanks to Jamie, but Maria quickly steps in to save her. Meanwhile, Scott serves a raw burger and gets a tongue lashing for it. Both teams scream their heads off as they finish up their last few tables but the red is the first to get their food out and FINALLY win a challenge.
For their punishment, the men have to wear yellow jumpsuits and pick up garbage on the side of the road. Gross. The women, on the other hand, join Chef Ramsay for a soccer game at the beach. They'll take on him and his family. Little known fact: Gordy played professional soccer so, needless to say, his team won.
Dinner service hasn't even begun yet and Fran manages to burn herself in the kitchen. Meanwhile, Holli and Salvatore have been pulled out of the kitchen to work the front of the house... which is usually easier said than done. The lunch service may have gone well, but dinner is quite another story. No one can get a dish out and when Ramsay takes his frustration out on Salvatore, he walks out.
Jean-Philippe chases him outside to try to convince him to try. Salvatore agrees to finish the dinner service but claims he'll put himself up for elimination and leave tonight. We'll see.
Ramsay is really on a tirade tonight, refusing to send anything out. However, you can't blame him. Half the dishes are coming to him raw or burnt. How?!
When Fran first burned her hand, she didn't feel it, but like any burn, that thing started to hurt like a mother a little while later. That little while later came during dinner service. That burn is BAD and she definitely needs medical attention, which she finally agrees to after screaming at everyone around her. Ramsay must be rubbing off on her.
The women's winning streak ends at 1, as they lose tonight's dinner service and have to nominate two people for elimination. Fran and her burn have been nominated, along with Jamie, who burned the mashed potatoes. Fran fights passionately to stay and Ramsay appreciates her fire. Jamie is sent home.
To find out what happened in the second hour of Hell's Kitchen, click here!
Hell's Kitchen airs Tuesdays at 8/7c on Fox.
(Image courtesy of Fox)

Follow Gina at twitter.com/ginascarpa
For more Hell's Kitchen links, visit SirLinksALot.net