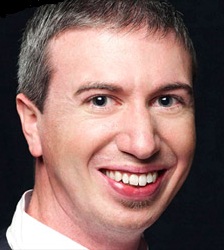 by Gina Scarpa
If you're going to be a contestant on Hell's Kitchen, you better have some thick skin. Never mind the fact that it's nearly impossible to succeed in Chef Ramsay's restaurant, but you get screamed at for every little mistake you make. Some people can handle it and some people can't. On last night's episode, Andrew couldn't take it anymore and walked out in the middle of dinner service. Today, he spoke to RealityWanted in an exclusive interview about his experiences on the show and what made him decide that he's had enough.
Q. Gina, RealityWanted: With so many cooking competitions out there, what made you decide to try out for Hell's Kitchen?
A. Andrew: One of the waitresses I was working with kept telling me I should be on the show. I looked at her one day and said, "If you want me to be on the show that bad, then you contact them," and she did. When I came through the door to work one day, she said, "They're accepting applications, give me your bio." It took me 30 minutes to write up and I sent it off to this woman and she sent it off to the right people and here I am.
Q. Gina, RealityWanted: Did you feel prepared for what you were about to walk into?
A. Andrew: No, not at all. I never really watched the show. When I got accepted onto the show, I refused to watch it. I wanted to walk in blind.
Q. Gina, RealityWanted: Do you think that it helped or hurt you that you didn't know the show that well?
A. Andrew: Regardless, the same outcome would've happened. If I didn't walk out in the 2nd episode, I would've walked out in the 5th. I know my self-worth. I don't need to justify it. I don't need to prove myself to any man. I'm not going to grovel. You clearly have me mistaken for somebody else.
Q. Gina, RealityWanted: Was Chef Ramsay hard on you, without merit?
A. Andrew: I think that Chef Ramsay sets you up to fail so he can make a form of entertainment. In no way, shape, or form, did he help us become better cooks. I'm gonna tell you: controlling by fear is the weakest form of control that a man can posses. One must first obtain self-control.
Q. Gina, RealityWanted: On last night's episode, your team won a helicopter trip around L.A. and lunch with Chef Ramsay. Do you feel like you got to know him a little bit better?
A. Andrew: No. Everything was superficial and shallow. We had shallow conversations with no depth, no meaning.
Q. Gina, RealityWanted: Is there anyone on your team that you're hoping does well this season? Who stood out to you?
A. Andrew: The one person I'd like to see do well is Ed. I thoroughly enjoyed meeting him and speaking to him when we were not in the kitchen. He's a very grounded individual. He's very knowledgeable, but not arrogant.
Q. Gina, RealityWanted: Would you want to be on another reality show? Do you have any aspirations to cook on tv?
A. Andrew: I don't think I'd ever do another reality cooking show. Cooking on tv - you know, I can't really say that I want to do it, you know? I can't say that if the opportunity came along that I wouldn't deny it either. I'll see what doors open. I don't regret going on that show. I think if I learned anything on that show, I learned a lot about myself. I did not like the way that man spoke to me. It makes me very mindful how I'm going to speak to another individual, even when I'm upset. If I learned anything from Chef Ramsay, I learned I don't want to be him.

Hell's Kitchen airs Tuesdays at 8/7c on Fox.
(Image courtesy of Fox)

Follow Gina at twitter.com/ginascarpa
For more Hell's Kitchen links, visit SirLinksALot.net