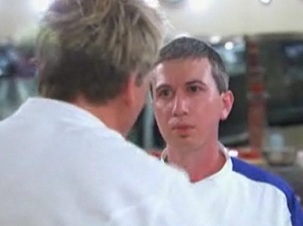 by Gina Scarpa
Tonight on Hell's Kitchen, Chef Ramsay continues to yell at chefs who are working on absolutely no sleep - because he keeps waking them up at the crack of dawn! In the early morning hours, everyone meets in the kitchen to find out their next challenge. Working in pairs, they will have to prepare eggs four different ways: poached, soft boiled, sunny side up, and scrambled. Because the women are down one team member, Siobhan will be working alone, adding a definite layer of pressure on her.
Nilka and Maria nail their eggs, giving the women 4 points right off the bat. Salvatore bombs but Mikey earns the men 2 points. Siobhan, who receives help from Autumn, is yelled at by Ramsay and cracks under the pressure, bursting into tears. Get it together! She receives 1 point for her team. Ed and Jay do well with all of their eggs, except for the scrambled, taking 3 points for the men. Autumn and Fran only manage to earn 1 point, while Scott and Andrew earn 3 points. Holli and Jamie are a hit with Ramsay, taking 4 points. It all comes down to Jason and Andrew, whose eggs help them take the win. The women lose again. Way to go.
For their prize, the men will take a helicopter ride around L.A. and have lunch with Chef Ramsay while the women head upstairs to blame Siobhan for their loss and complain that she threw them under the bus. Once they're done being a bunch of Debbie Downers, they head back to the kitchen to prep perhaps the largest tuna I've ever seen in my entire life.
The chefs come together to finish prepping for dinner service and Salvatore commits a major error when he can't name a single dessert on the menu. For that, he gets screamed at and thrown out of the kitchen until he can name them all.
During dinner service, Autumn sticks her seasoning where it doesn't belong, oversalting the water and dishes at every turn. Siobhan, meanwhile, has no ability to stand up for herself or get it together and needs to do so - quickly! Mikey tries his hardest to get his risotto appetizer out to customers and it takes 43 minutes for the first one to go out. It's immediately sent back for being undercooked and Ramsay screams at Mikey, turning a shade of red only seen on stoplights and firetrucks.
It seems that it's impossible to impress Ramsay tonight. All he can do is slam food on the ground, scream, swear, and carry on about how none of the dishes are up to par. In fact, he pushes Andrew so far that he quits right in the middle of dinner service.
There is no winner tonight and both teams have to nominate someone for elimination. After deliberating, it is Autumn and Jason who will face Chef Ramsay.  However, when Autumn steps forward, the women admit that she is not the worst cook on the time.  Maria throws Jamie under the bus, calling her the worst, and suddenly, she's up for elimination.  That's out of left field.  Jamie and Jason make their cases... you know, they'll keep working hard... they have the desire... blah, blah, blah.  Oh wait, you thought Jamie was out of left field?  Well, guess who's going home?  Mikey.  Yup, you heard me.

Hell's Kitchen airs Tuesdays at 8/7c on Fox.
(Image courtesy of Fox)

Follow Gina at twitter.com/ginascarpa
For more Hell's Kitchen links, visit SirLinksALot.net