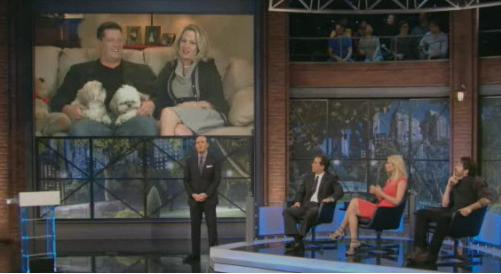 by Lindsay Strouse
Out of all the hilarious arguments and panelists we've seen on The Marriage Ref, this week's panelists take the cake. Comic Jerry Seinfeld returns with Last Comic Standing's Greg Giraldo and actress Gwyenth Paltrow. Here's a look at how they handled tonight's issues:
The Issue: Off The Hook
The first couple of the night is Jonny and Emily who have been married for 5 years. Jonny feels the need to show his love for his wife by incessantly calling her every 5 minutes. Emily loves Jonny, but doesn't feel the need to answer…any…of his phone calls. Jonny thinks it's about time he gets an answer, but Emily claims she is doing housework and doesn't want to talk every minute. I'm sorry, but doesn't stalking spouses happen AFTER a divorce, not DURING a marriage? The panelists think that maybe if the husband didn't call 82 times a day, the wife would actually want to talk to him.
Gwyenth sides with the husband and thinks spouses should pick up the phone for each other, no matter. Jerry thinks Jonny is an over-caller and needs to stop the calls. Greg thinks no one should win and be happy when he's going through a divorce. And the final call goes to Jonny! On one condition though, keep the phone calls down to a minimum.
The Issue: Miami Vice
I have to say Laura and "Bones" are my favorite couple of the night. This couple of 3 years lives in South Beach, Florida, where the weather is hot year round. Bones wants to take advantage of his wife's "hot bod" and dress her as his own personal stripper. And not just for their house—he wants her wearing a skirt that looks like a wristband and a bikini top while going grocery shopping! You have GOT to be kidding me. According to Bones, in Miami, "stripper chic" is the style.
Find it a little odd that the husband is so concerned with what his wife is wearing? So are the panelists. They put the main issue on hold so they can contemplate the real sexuality of the husband. I must agree, it is a little strange that he is that interested. I mean, I wouldn't really want my guy commenting on whether my blouse matched my skirt and pumps.
Both Jerry and Gwyenth side with the wife, although Gwyenth says Laura can make a gesture to try and excite her husband a little more. Greg is so absorbed over the nature of the husband's sexuality that he decides to side with him. Tom Papa takes everything in and decides even a stripper would be cold in the clothes Bones wants his wife to wear. Laura wins!
The Issue: To Die For Love
Next we meet a pair of magicians, Richie and Barbara, who have been married for 25 years. Richie wants to try a new act, but Barbara isn't exactly on board. What's the act? Throwing knives…at Barbara. Yikes! Barbara has been supporting her husband for quite some time with his magic career, but I think a line has been crossed once knives are added to the equation.
Both Greg and Gwyenth side with the wife while Jerry agrees with the husband. He believes a couple needs to be involved with what each other is doing, even if death is a possible consequence.
Before the call is made, Richie and Barbara come on the show so Richie can show off his knife throwing skills on a balloon version of his wife. Because he doesn't pop any balloons, he wins! Barbara, I hope you have some helmets and padding in your closet.
The Issue: Pillow Fight
The final couple of the night is Geoff and Ellen who have been married for 4 years. She wants him to sleep in the bed with her, but he wants a good night's sleep. He would rather sleep on the couch with the dog instead of hearing her snoring all night. She refused to admit she snores despite Geoff's hard evidence on tape. According to our "Just The Facts" girl, Natalie Morales, Geoff has been sleeping on the couch for 2 years! Time to suck it up, buddy, or you might have some bigger problems on your hands.
Out of his love for Gwyenth, Tom Papa allows her to make the final call. She sides with the husband and believes he is preserving their marriage by sleeping on the couch. Better to get a good night's rest than wake up every morning hating your wife and her snoring, right?
The Marriage Ref airs Thursdays at 10/9c on NBC.
(Image courtesy of NBC)
Follow Lindsay at twitter.com/LindsayStrouse
For more The Marriage Ref Links visit Sirlinksalot.net