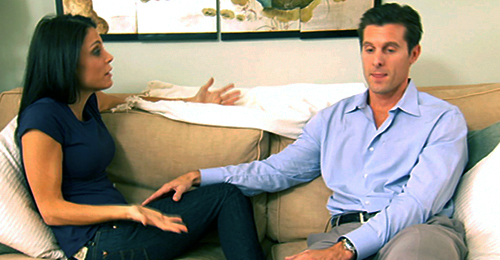 by Chandra Clewley
Tonight's episode of The Real Housewives of New York City starts off with Bethenny's pregnancy being exposed by Perez Hilton on his blog. She is meeting with her assistant when she finds out about the exposure of her pregnancy and has to call Jason to let him know. When he comes over, she tells him that the pregnancy has been exposed. Jason is really upset and overwhelmed. He knew what he was getting himself into, but he just didn't realize the enormity of being in the public eye.
LuAnn is visiting Sonja to arrange the charity party she is throwing when she gets a call from Jill. First, Sonja and LuAnn ask Jill if she has invited any of her girlfriends to which Jill says that she never got the "real Evite" and that she could tell the one she got had no "thought behind it". Then, following that backhanded insult, Jill tells them about Bethenny's pregnancy being all over the tabloids. LuAnn says that Bethenny blocked her from her Twitter (how funny!! Jill Zarin blocked ME from HER Twitter, I never knew LuAnn and I had so much in common…) so she doesn't know what is going on. She thinks maybe that is why Bethenny has been so rude and hormonal to her? Sonja suggests that they invite Bethenny to the charity party they are throwing, but Jill vetoes it and says she wants to keep her circle tight and doesn't want Bethenny there to ruin the vibe. Sonja complies but says that if the pregnancy is true, Bethenny is under a lot of pressure with her pregnancy and engagement and that the girls need to be understanding.
Jill wants to throw some holiday party so she meets with Jennifer Gilbert, who I thought was going to be on the show but so far has only said two words and been in only this episode. 
Sonja wants a little lipo so she asks Ramona to join her for a consultation. Ramona drills the doctor about his credentials which is kind of what Sonja wanted her to do, but Sonja trusts the doctor in the end. He does seem like a really good plastic surgeon! Later, she sees her psychic Roberta to make sure that the surgery is going to go okay and that she is on the right path which Roberta confirms.
Bethenny calls Alex and shares the news of her pregnancy. Alex is really excited for her. She also tells Alex that she got an email from Jill sharing that she talked to the press and denied the rumors that Bethenny was pregnant for her, and suggested that she keep it private. The email was completely unsolicited and unwarranted. Bethenny is over it, and Alex says she will share with Jill that very fact.
Ramona is launching Tru Renewal at Equinox and Kelly and Jill show up. Jill says that Ramona's photo on her information card is "horribly photo shopped".  "Her nose is too wide. She must have had bad Botox."  Jill then says that even though Ramona was mean to her at her Kodak party, she is going to take the high road, but "Why would you serve such unhealthy food?" and "There are 50 million skin care lines." Bethenny sends Ramona a card with a bottle of Pinot Grigio. The card confirms that she will have a drink with Ramona in 7 months, which essentially confirms her pregnancy to the cast. Jill is annoyed that Bethenny announced it this way. Alex announces that she has something to say, and then it sort of drags on for awhile, with tons of interruptions. Alex is breaking out in hives she is so heightened, and finally spits out to Jill that Bethenny " and Jill are done and Bethenny never wants to see or hear from you again." Jill is embarrassed and humiliated and she, Kelly and LuAnn leave immediately. Jill starts to cry as she leaves and says it is unforgiveable the way Alex went about telling her this. 
Later, Alex goes to see Bethenny and tells her about how she went about talking to Jill. Bethenny is slightly surprised that Alex barged in and announced this in front of everyone, and thinks that it is slightly humorous. She chalks it up to Alex borrowing Bethenny's ball's for the evening since she is usually so shut down with Jill and such a wall flower. Alex feels like this is the first time that Jill Zarin has ever heard her and admits that there was underlying anger in why she did this, and that she has been harboring resentment towards Jill for a long time. She even admits that she realized when she did this that she was essentially taking a stand against Jill and drawing the line, so to speak.
Do not miss next week's Real Housewives of New York City where Alex finally blows and confronts Jill.
The Real Housewives of New York City airs Thursday nights 10/9 C on Bravo.
(Image courtesy of Bravo)
Follow Chandra at http://twitter.com/ChandraClewley
For more Real Housewives of New York City visit Sirlinksalot.net