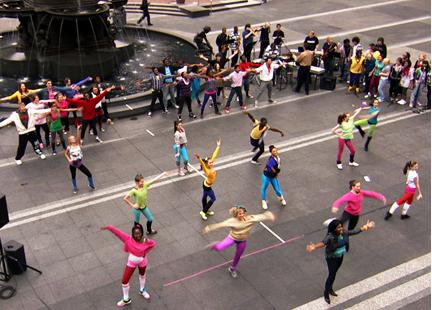 by Lindsay Strouse
This week on Taking The Stage, Emily wants to talk with Tyler about what is going on with their relationship. After him completely ignoring her at Ian's Halloween party, I would be pretty confused too. Tyler isn't too open about talking about what is and isn't working with their relationship and leads her to assume it's over once he gets to Atlanta. When Tyler starts talking with his mom about handling working on the movie and SCPA's Fame, she is a little worried he won't be able to handle both.
The students are in the final week of rehearsals for Fame and—uh oh—Tyler isn't there.  Being in theater myself, I can say firsthand how important it is to have everyone there at rehearsal during the week before opening. I have a feeling things aren't going to be as easy as Tyler thinks they will be.
Down in Atlanta, Georgia, Tyler gets the star treatment on set as he gets ready for his first movie role. He fits right in with the other dancers and nails his first scene.  After making a great first impression, the producers want to make Tyler a principal dancer on the set, which could be a huge stepping stone to jumpstarting his career. The only catch—he would have to stay another week in Georgia. The same week as tech week and opening weekend of Fame. They give him 24 hours to ponder it over. So while Tyler is feeling on top of the world on the movie set, he may be leaving his classmates hanging.
Back at rehearsals, Anna sits through watching the scene where Carlton kisses his love interest over and over again. This definitely sparks some jealousy within Anna (which I'm sure Carlton isn't hating). She's finally starting to fall right into his hands. The students, sans Tyler, get on a bus after rehearsal in their costumes to promote the show to unknowing strangers. They perform some of the dance numbers and definitely put on a good show. They bring some great publicity and generate a lot of interest.
Tyler FINALLY calls Emily from Atlanta with his "dilemma." He lets Emily know he might have to skip out on the show to stay on set. He was hoping she would support his hope of staying in Atlanta, but she isn't on board. Emily isn't the only person not happy with Tyler's decision—the cast of Fame isn't too keen on his option to stay in Atlanta, either. Looks like he has some thinking to do.
 Once the other students hear the rumors of Tyler's possible choice of staying in Atlanta, they are all angry that he is stomping on his friends to get to the top. Just when they think their show is ruined, Tyler shows up to rehearsal! But things aren't peachy just yet—now he has to get on top of his game and remember all the dances from the show. And if that isn't enough, things between him and Emily are getting to be too much to handle. I'll admit, I haven't exactly been too kind to Tyler in the past. However, this can't be easy to deal with.
During a break, Tyler takes Emily aside to talk. He lets her know they aren't working out and they shouldn't talk anymore…but he still wants to be friends. Right. They both agree that things need to end, but neither handles it very well. The breakup leaves Emily in tears and Tyler most likely just fine.  I just hope this doesn't affect their performances onstage.
See what happens next Thursday on Taking The Stage at 11:30/10:30c on MTV.
(Image courtesy of MTV)
Follow Lindsay at twitter.com/LindsayStrouse