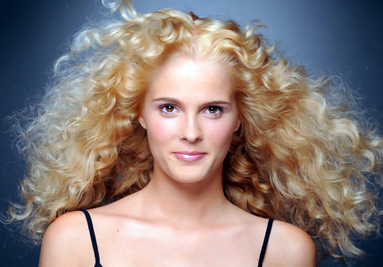 by Chandra Clewley
On tonight's episode of Shear Genius, there are 4 remaining stylists, Jon, Brig, Janine and Matthew. They get an invitation to go to a home up in the Hollywood Hills where they find out about their Short Cut challenge. It turns out the client is Camila, and she is also the sole judge. The challenge: To style Camila's hair for a night out. 
Orlando Pita is there for moral support, I guess. The stylists have 45 minutes and Brig goes first. The stylists have 45 minutes and Brig goes first. Oh, I'm sorry did I repeat myself? I must have been dozing off…anyway; Brig has 45 minutes, and…Camila wants simple, not over complicated. Just like every other person that has been on the show as a model. They talk about what she will do if she wins. (Make her salon more fabulous) and about the competition (it's just a competition).
Janine goes next and leaves Camila's hair down. She says she has underestimated the difficulty of her hair. Matthew is next, it's tough for him, and he thinks this type of hair needs more time. Camila is annoyed that Matthew isn't sectioning her hair. Matthew is annoyed that Camila won't shut up and let him work. Jon is next, and he goes for an up-do French twist thingy. 
Camila says that Brig's style wasn't age appropriate for a mother. Janine didn't apply enough heat to hold her hair. Matthew's was almost perfect, and Jon's wasn't secured right so it went a bit sideways. Matthew wins the challenge and gets to pick his models for the elimination challenge.
The Elimination Challenge is all about defining their signature style. The iconic guest judge is Oribe. I don't know who that is, but the stylists all freak out a little. He is a celebrity hairstylist. They must create a portfolio with 3 looks that define their signature style. Two of the looks are on models and the 3rd one is themselves. Brig has always thought outside the box and now she says, "outside of the planet." She wants to try Avant Garde again, hoping this time the boring/long layers/sleek/uncomplicated preferences of the judges will somehow miraculously change to adventurous and daring. Jon picks a model that has thinning hair. He sees it as a challenge. Janine likes Harajuku girls, Chola's and Lolita's so that is her vision. Brig says that as she watches what the others are doing, she thinks again "One of these things is not like the other ones".
At the end of the day, the judges think that Matthew's good and evil look is nice, but the photo he picks of himself is very "real estate agent." Kim says it lacks flavor. Oribe likes Brig's portfolio and says "normal is boring." Oh, praise the Lord, someone who doesn't want every hair style to look like Jonathan Antin's 2003 long layer cut. He thinks it took a tremendous amount of imagination. Of course, Jonathan doesn't like it. Maybe because there aren't enough long layers for him? Jon's "Anything is possible" comes out a bit boring. He thin haired model, and his photo are sexy, but the red head's hair is blah. Janine does a Japanese cut that is fun, but her afro falls short of what she and the judges wanted. This is like the 40th afro this season, so I imagine these judges are getting super good at judging them. As a matter of fact, Janine's last Diana Ross afro went over much better with them.
The top 2 are Matthew and Brig with Brig taking the win (thanks to Oribe, I am sure). This means she gets an advantage in the final elimination challenge. Jon and Janine are the bottom two, so we already know where this is going. Poor guy. The judges didn't get "anything is possible" they got "average". Weird… that seems to be what has been winning the rest of the time?
Catch the finale of Shear Genius next Wednesday night 10/9 c in Bravo.
(Image courtesy of Bravo)
Follow Chandra at http://twitter.com/ChandraClewley
For more Shear Genius visit Sirlinksalot.net