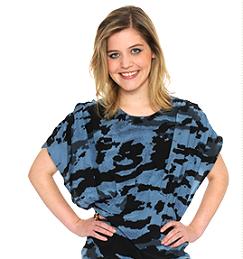 by Gina Scarpa
If you want to know how stressful it is to work at People's Revolution, on Bravo's Kell On Earth, look no further than Stefanie Skinner. The Junior Executive is so dedicated to her job that she often forgets to put herself first. In fact, on this week's episode, her relationship ended because she was unable to make time for her boyfriend. Some of it is not her fault, though. The company has been going through major staff changes this season and Stefanie is often left to fill the voids of employees who couldn't cut it. Today, she spoke to RealityWanted in an exclusive interview about how she first came to People's Revolution, adjusting to life on camera, and what she's up to now.
Q. Gina, RealityWanted: How did you get started at People's Revolution?
A. Stefanie: When I first got into People's Revolution, I was an intern. I interned for almost a year. I worked in advertising. One night I was on Craig's List and saw this opening. I really wanted to get into PR and fashion but I wasn't sure how I was going to do it. I was working in advertising full time. I went for my interview and got hired to do Fashion Week. I would go to work all day and then go to People's Revolution at night, starting at 8pm. The first season I worked there, I did 17 shows. I did that for a full year. Then the following August, Kelly said she was looking for an assistant. That's how I got there.
Q. Gina, RealityWanted: I know People's Revolution has been shown before on The Hills and The City but were you nervous about a camera crew being with you all the time for Kell On Earth, and watching your every move?
A. Stefanie: No, I wasn't nervous. I was just kind of, "How am I gonna act? Am I gonna talk?" I always joked I was going to be mute. I wasn't really nervous about it. I was just like, "Okay, that's what's happening."
Q. Gina, RealityWanted: You're always very stressed out on the show. Do you think that the viewers understand the pressure that you're under, working for Kelly?
A. Stefanie: I think they do a pretty accurate portrayal of the amount of stress. The amount of stress I'm under is completely different from what Kelly and Robyn are under. They're under a completely different amount of stress. I think at the time, when we were filming, it was intense. Everybody was getting hired and fired. At the end of the day, they kept turning to me being like, "Where's this? Where's that?" I think it was intense because I was the only person that was actually working on my level. There was no other me.
Q. Gina, RealityWanted: In the interviews, you guys all talk about each other and vent your frustrations with one another. Has it caused any issues in the office or not, because most of you will tell it like it is anyway?
A. Stefanie: I don't think it was a problem. There were no surprises. I don't think anybody got upset over anything that was said. If someone was upset, they'll tell you on the spot. It's work, it's not group therapy, as Kelly always says.
Q. Gina, RealityWanted: What is life for you like now?
A. Stefanie: Life for me now... I'm just trying to find that balance between work and my personal life. I'm trying to leave a little earlier. I tell Andrew, "I'm trying to leave by at least 8 or 8:30," and he's like, "Really?" Life is good. I'm happy. I'm just trying to find a life a little bit.
Kell On Earth airs Mondays at 10/9c on Bravo.
(Image courtesy of Bravo)

Follow Gina at twitter.com/ginascarpa
For more Kell On Earth links, visit SirLinksALot.net