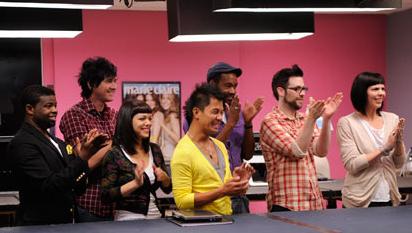 by Gina Scarpa
Tonight, on Project Runway, the designers find out that they'll be doing more than just choosing fabrics at Mood to create their next look. They meet with Tim Gunn and fashion designer Vivienne Tam, who is famous for marrying fashion and technology in her work. Tonight's challenge is huge: create your own textile/fabric to use for their design. I feel past Project Runway contestants crying somewhere that they never got to do this. It's a first for the show and a very big deal!
The designers are given an hour to work out the design for the textile on an HP touch screen desktop (which kicks butt by the way) and then head to Mood to buy supplemental fabrics. When everyone's mockups of their fabrics are printed out, the opinions start flying. Anthony compares Mila's to Legos (and not in a good way). Jonathan's design is so light that it can't even be seen. It looks like a white piece of nothing.
As the designers work, Anthony provides some comic relief, even though he says he's not trying to be funny. He rants on about everything from Oprah to Beyonce and no one seems to mind that he talks incessantly while he works. I'm sure there are some people that get annoyed by him but I am certainly not one of them. I say: more Anthony, please!!
Once the textiles have arrived, Tim comes in to make the rounds and offer some advice and direction. Things get a little tense at Emilio's station - first, Tim doesn't get the design of the fabric (and neither does anyone else). Emilio thinks it says ESOSA but it looks like it says SAES with a heart, as in Seth Aaron/Emilio Sosa. When Tim points it out, and then questions his design, Emilio naturally gets defensive and says in his interview that he won't be listening to anything he says.
Vivienne Tam sits in tonight as a guest judge for the runway show. My favorite looks tonight come from Emilio, Jay, and Jonathan (minus the jacket) while Mila's fabric choice is by far my least favorite. Jay is safe while Seth Aaron, Emilio, and Maya find themselves in the top group and Mila, Anthony, and Jonathan are in the bottom.  I'm immediately angry at seeing two of my favorites, Anthony and Jonathan, fighting it out to stay in the competition.  Jonathan especially gets ripped apart by the judges, unncessarily I think.
After the judges deliberate, the six designers return to find out their fate.  Emilio wins (again) and that means Maya and Seth Aaron are safe.  Mila is spared (WHAT?!) which leaves Jonathan and Anthony in the bottom two.  Anthony is criticized for constantly showing the same thing week after week while Jonathan's look is called bizarre and sad.  In the end, it's Anthony who's headed home and Project Runway will be a whole lot less interesting without him.

Project Runway airs Thursdays at 10/9c on Lifetime.
(Image courtesy of Lifetime)

Follow Gina at twitter.com/ginascarpa
For more Project Runway links, visit SirLinksALot.net