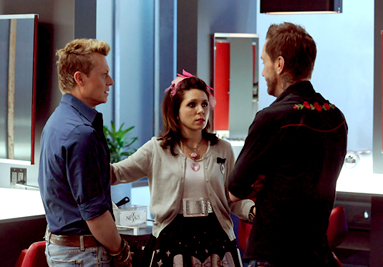 by Chandra Clewley
On tonight's Shear Genius, Brig begins by admitting that she never thought she would make it this far. There a four left now, Matthew, Janine, Brig and Jon. The guest judge for the Short Cut challenge is Mark Townsend, celebrity stylist. 
The group is given 3 items: styling tools, technique and inspiration. They must incorporate one thing from each category. The team picks numbers and Jon gets #1. The group lines up, and it turns out that Jon gets to pick the 3 items for the person to his left, which is Brig. Jon picks sponge rollers, finger waves and Paris. Brig picks crimping iron, mullet and rainbow for Janine to strategize against her (maybe to get her back for the sabotage that Janine has done to Brig already). Janine picks flat iron, braids and ocean for Matthew which leaves Jon with curling iron, bangs and disco ball. Then, Linda Wells is introduced. Linda is the Editor In Chief for Allure Magazine and she says that "good taste matters" in this challenge.
Matthew does mermaid Darryl Hannah in Splash hair. Jon wants to do an updated afro. Brig does romantic, soft, confidant Parisian BUT OF COURSE, her model doesn't want her hair cut…go figure. Finally, the model caves. Janine says she isn't scared and says she will school Brig.
During the judgment, Janine is told that she lost the mullet. Matthew is told that they love his extensions but the bangs are awkward. Jon's is "quite beautiful". Brig doesn't have enough finger waves and the roots are hot, which the camera shows but Brig is insistent that she doesn't "see them".
Jon wins the challenge and receives an advantage in the elimination challenge. After Brig is given feedback about spending too much timing cutting and coloring, Brig says she stands behind it. Janine becomes annoyed and is talking under her breath, when Camilla asks her what she is saying. Janine says, "It cheapens the competition that Brig acts like she doesn't care." Then she looks at Brig and says "Brian should be here, and not you." Later at the apartment, Janine criticizes Jon's styling but Jon just thinks that they should shut up and Brig leaves because she can't stand Janine and Matthew's criticism.
For the elimination challenge, the stylists are going to do an Editorial Photo Shoot. This immediately freaks Jon out, who gets so nervous on set. They are to update and modernize a memorable hairstyle from American Cinema. Jon gets to pick first and selects Audrey Hepburn's "up-do" from "Charade". Janine picks the easiest one, "Shakespeare in Love". Brig selects Bo Derek's braids from "Ten" and that leaves Matthew with Dolly Parton's bouffant from "The Best Little Whorehouse in Texas".
They will be judged on: The look in the final photo. How well the style reflects and modernizes the look. How well they work with the photographer Stephen Danelian. 
Guess what happens? Jon's model doesn't want her haircut. Surprised? Either way, he pins up her hair into the up-do he wants. He colors her hair twice and is quickly running out of time. Brig is running out of time braiding. So is Janine, whose braids just won't work for her. During the shoot Janine's braids look like horns until she tames them. Brig is shaking, she doesn't think her style represents her best work and is embarrassed. During her shoot, she grabs a water bottle to embody "Ten". Matthew wants crazy hair for his shoot, and Jon is so nervous he looks like he is going to throw up. 
At the judging table, the judges say that Jon's was gorgeous coloring, the shape was stunning but he fell apart on the set.
Matthew did an old school roller set that Jonathan loves, and it worked. The texture was beautiful, it worked.
Janine gave a beautiful hairstyle and she handled the pressure of the photographer with an ethereal end result.
Lastly, Brig's photo totally works, event though she had very little strategy. The judges all agree that the water bottle saved her. 
Matthew and Janine are the top two with Matthew taking the win. 
Jon and Brig are the bottom two. The judges give them time to make their cases.
Jon says that he thinks he would send Brig home, only because she has struggled more. Brig says she doesn't like her finished product, and says she would probably send herself home too.
At the end Brig is safe. And so is Jon.
The entire groups photo's really delivered so the judges decide not to eliminate this round. And naturally, the Wonder Twins are totally, totally annoyed. 
Hey!! No wonder I didn't get a call from Realitywanted.com Editor Gina Scarpa this week letting me know what time we were interviewing the eliminated contestant! 
Catch an all new Shear Genius next Wednesday when it gets down to the wire, at 10/9 c on Bravo. 
(Image courtesy of Bravo)
Follow Chandra at http://twitter.com/ChandraClewley
For more Shear Genius links, visit Sirlinksalot.com