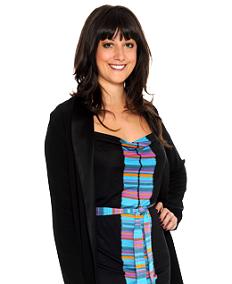 by Gina Scarpa
On Bravo's Kell On Earth, Emily Bungert is the powerhouse publicist that keeps things running smoothly at People's Revolution. The margin for error when working with Emily is zero, as she is a perfectionist who demands the same in return. Her work ethic often finds her at odds with other staff members but underneath that tough exterior is a Minnesota girl with a big heart.  Today, Emily spoke to RealityWanted in an exclusive interview about life on Kell On Earth.
Q. Gina, RealityWanted: How did you end up working at People's Revolution?
A. Emily: I came to People's Revolution about 3 ½ years ago. Robyn and I have known each other for many years and have been friends. We worked together at another agency about 10 years ago. Kelly saw me working at Fashion Week quite a few years ago and asked Robyn about me. She wanted me to come work at People's Revolution, which was really cool. That was really flattering because I had never met Kelly in person. That was kind of how I ended up coming here.
Q. Gina, RealityWanted: What was your reaction when you found out that you were going to be part of a reality television show?
A. Emily: Oh my God, I mean... I didn't actually accept that it was really happening even after the cameras rolled in. I was like, "We're gonna be on tv!" Kelly was like, "You guys don't even know what's going to happen!" It didn't sink in until it aired.
Q. Gina, RealityWanted: Did the cameras in the office affect how you or anyone else did their jobs? Did it take some getting used to?
A. Emily: We've had cameras around from The Hills and The City so we were used to it in some way. I think the best thing to do is pretend like they're not there. If you get too distracted, it can take away from your work. We just tried our best to do our job and go about business as usual.
Q. Gina, RealityWanted: How much room is there for error when working for People's Revolution? Are you forgiving of employees who make mistakes?
A. Emily: Not really! I'm kind of a perfectionist. There's so much detail that goes into what we do that if you can't manage a lot of tasks at once, you're not going to last in this job. There are so many things to keep track of. I'm a super organized person. There's not a lot of room for error. Of course it's going to happen but if it happens repeatedly, like with Stephanie Vorhees, it's not going to work.
Q. Gina, RealityWanted: Are we getting an accurate picture of what it's like to work for Kelly Cutrone?
A. Emily: I do. I think you see both sides of things. A lot of things are edited out, especially with me. I'm actually friendly with the people in the agency and have a really good relationship with a lot of them. I think they like to show my tough, mean side.
Q. Gina, RealityWanted: Can you give us a little peek into what is coming up this season?
A. Emily: There's gonna be some more changes to the team, more exciting moments. We're pretty much done with the fashion shows so you'll see more of what happens in the office and in our personal lives.
Q. Gina, RealityWanted: What do you like to do on your down time?
A. Emily: I try to see my friends. I love to read books, watch tv, watch movies. Try to spend some time with friends, go dancing, and get out and about. I try to visit my family a lot. I keep in touch with my sisters back in Minnesota and if I have free time, I try to fly back there.
 
Kell On Earth airs Mondays at 10/9c on Bravo.
(Image courtesy of Bravo)
 
Follow Gina at twitter.com/ginascarpa
For more Kell On Earth links, visit SirLinksALot.net