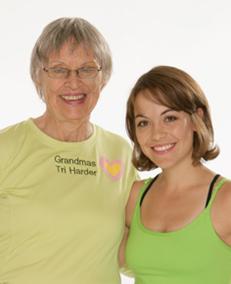 by Gina Scarpa
Visit the new RealityWanted The Amazing Race 16 Fanpage For Interviews, Recaps, Casting Tips, Twitter, and more.
Jody Kelly and Shannon Foster, one of the teams on season 16 of The Amazing Race, aren't your typical grandmother and granddaughter. At age 71, Jody is one of the most active people in the history of the race, running half marathons, lifting weights, all while her granddaughter follows suit. The pair got off to a rough start on the first leg of the race and was never quite able to make up the ground they needed to in order to stay in the race. They were eliminated on last night's episode, at the end of the second leg. Today, they spoke to RealityWanted in an exclusive interview about their experiences on the race.
Q. Gina, RealityWanted: Whose idea was it to try out for The Amazing Race this season?
A. Shannon: Gram was definitely the one who went all out for it. It took a little bit to convince me because I just graduated from college. It didn't take long before I was like, "Life is an adventure!"
Q. Gina, RealityWanted: Did you do any preparation before heading into the race?
A. Jody: A lot. We continued with our previous training with triathlon stuff and stepped it up with pilates. I did some extra things with weightlifting. I slept out in my car and on the floor and I did some sudoku to overcome my fear of numbers.
Q. Gina, RealityWanted: You both live a very active lifestyle. Was running the race easier or harder than you expected?
A. Jody: Easier. It is much, much harder to run a half marathon. I've done there of those. I'm going to do a full marathon within a year and I'm going to do my first half iron triathlon.
A. Shannon: I thought it was harder, just because of the physical, mental, and emotional energy.
Q. Gina, RealityWanted: What do you think of the alliance that Joe and Heidi formed with Carol and Brandy, when it comes to things like saving spots in line or sharing information?
A. Shannon: You do what you gotta do when it's to your advantage. Carol spoke Spanish so it made sense to align with them. I think there would be backstabbing down the road and people would run their own race.
A. Jody: It's a game. It's not sitting around singing kumbayah. I don't think anyone ought to complain about alliances.
Q. Gina, RealityWanted: Were there any teams on the race that you connected with?
A. Jody: Not on the race, no, we were pretty far behind... a little bit behind at any rate. We didn't get the opportunity and we didn't have that much of a desire either.
Q. Gina, RealityWanted: What do you think contributed to the downfall of your team, in this second leg of the race?
A. Shannon: I think that we did start behind everyone else and that was not to our advantage at all. We did make decisions really fast but we didn't have very much information about the detours, with the condors and the llamas. The llamas did take us longer.
Q. Gina, RealityWanted: How difficult is it to make up ground when you start the bottom of the pack?
A. Jody: Pretty darn hard.
A. Shannon: It's pretty difficult unless someone else makes a mistake. Louie and Michael did make a mistake but we weren't able to pass them.
Q. Gina, RealityWanted: How far after Louie and Michael did you reach the mat?
A. Shannon: I'm not sure the exact time but it wasn't that far behind.
A. Jody: Between 15-30 minutes.
Q. Gina, RealityWanted: Despite going out early, are you satisfied with the experience and proud of how you ran the face?
A. Jody: Oh, I'm thrilled to have done this together with Shannon and it's a relief not to be the first one out.
A. Shannon: We were still hoping to go pretty far. We were pretty bummed out. We did the best we could with what we had. A lot of it was luck of the draw. It is what it is.
A. Jody: I'm very, very happy that we were always pleasant with each other and positive.
Q. Gina, RealityWanted: Are there any teams that you're rooting for to make it to the end?
A. Jody: We love them all, we really do and we wish them all the best. It's way too early to predict a winner.
Q. Gina, RealityWanted: What are you up to now?
A. Shannon: I just signed up for my first marathon in June. I'm living in Alaska.
A. Jody: I'll probably go up to Alaska in July and do a really long bike ride with Shannon and her mom. I'm going to enter a half marathon probably in September. I'm going to do a power lift meet in December. I have all kinds of things going on.

The Amazing Race airs Sundays at 8/7c on CBS.
(Image courtesy of CBS)

Follow Gina at twitter.com/ginascarpa
For more Amazing Race links, visit SirLinksALot.net