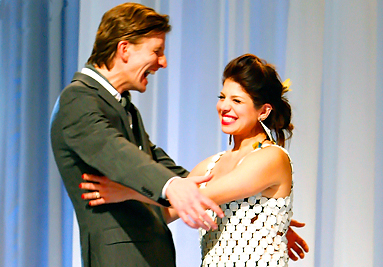 by Chandra Clewley
Launch My Line Season 1: Finale Part 2 Recap
On the second half of the Finale for Launch My Line, the experts and professionals are scrambling to finish up their 3 additional challenges: 
Non Traditional Pockets
Ruffles
Evening Gown
In addition, they are able to fine tune and modifying the rest of their lines, for their final runway show. Eric and Galina are struggling with the evening gown. Kathy Rose and Emil are still behind because Jim has not shown up to finish his pocket dress. Merle and Thai are not that nervous since they have the evening gown and the pocket outfit finished and are just working on the ruffle gown. 
Dan and Dean of DSquared2 come in with Fergie.  They walk her through the workshop and introduce her to the designers. She is impressed with all of them and has working with Eric Cubeechee before.
Meanwhile, Jim has still not shown up, and Kathy is really stressing out. She feels like her pocket dress is not going to get finished and doesn't know quite what to do.  She decides to surrender to Emil and let him shorten the red dress from floor length to tea length. The red is striking and later Stefani Greenfield says it pays homage to Valentino.  Jim finally shows up 2 hours before the runway, and finished the pocket dress for a stressed out Kathy, but not before Kathy has looked at Merle's evening gown and conceded that she would wear it which means it is competition and that Eric's line is so cohesive he may push ahead because he clearly has his "girl in mind"
All the former contestants show up for the runway show and Merle introduces "Inside Out", her line, first. All of the pieces are cohesive, although the judges are worried about how much of a mess the garments will make in a retail store with so many pieces to them.
Eric's line is called "Desi Jay" and is named after his son with ex-girlfriend Jaime Pressly who happens to be in the audience; along with Jonathan Antin (Shear Genius, Blow Out) and Frederic Fekkai (Shouldn't they be, like, mortal enemies?) Eric's line is targeted for the "club girl" and he calls it "eighteen to ageless" which isn't quite true, if an old lady showed up in that sequin dress it might not be age appropriate. In the end, Eric is the 2nd runner up, because he is just too new to the fashion and design world and has potential but not the maturity of the other two contestants.
Kathy's line is called "Native Rose" and the colors are amazing. The red dress is the first to hit the runway, and the judges love it, so surrendering to the shorter length may not have been a bad decision. The rest of the line is really pretty and pops. The judges love it.
Ultimately, Kathy Rose's "Native Rose" is the winner and her line will be launched. Merle is shocked that she didn't win, and in this case, someone like me wishes that it could have been a tie between the two! 
Reality Wanted will be interviewing Eric, Merle and Kathy on Thursday. Check our site for exclusives as the interviews come in!
Follow Me On Twitter: http://twitter.com/ChandraClewley
For more Launch My Line, visit SirLinksALot.net
 (Image courtesy of Bravo)