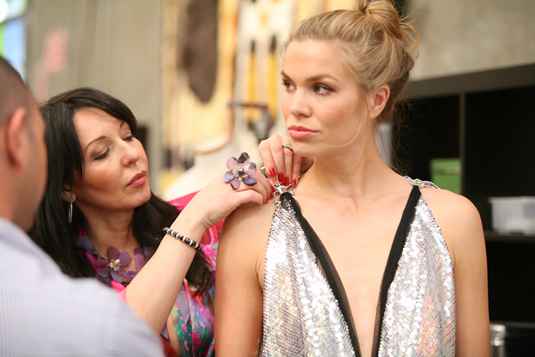 by Chandra Clewley
Tonight's episode of Launch My Line leaves us with three professionals left: Kathy Rose, Merle Ginsberg and Eric Cubeechee. They are given their last challenge of the season, to design and construct 3 new outfits.
The first outfit is to incorporate non-traditional pockets.
The second outfit is to incorporate ruffles
The third outfit is to be an evening gown.
The DSquared2 guys tell them that for the next runway show, the judges will be judging the entire line and the teams have the opportunity to scrap or altar any of their prior garments.
But, they are given help, in the form of the previously eliminated expert designers. The 6 designers get to pick which teams they want to be on. 
Jim and Roberto pick Kathy and Emil's team.
Coco and Tressa pick Merle and Thai's team.
That leaves Julie and Susan with Eric and Galina. Eric says he "feels like the last kid on the playground to get picked" and you can't help but feel sorry for him, even though Galina has been the chief designer on that team since the show started.
Merle quickly delegates the pocket dress to Coco, Thai get's the evening gown, and Tressa will altar some of the previous pieces including the "turkey neck" dress.  The only hitch is that the team is running low on fabric and can't seem to come up with an agreeable material for the evening gown. Merle is getting along well with the often difficult Coco who she calls a "thinker" and "conceptual" and when they all agree to walk away from the evening gown and then come back to it, it works wonders. A little bit later, they get together as a team and Merle heads for the trim room, and finds this brown ad gold sequined fabric. The team then decides to "go big, go bling" taking a cue from Eric and Galina's team, that seems to repeatedly win with their loud and flashy outfits.
At the same time, Galina is taking over it appears. Julie doesn't like their idea of a pocket dress, and no one can agree on the evening gown. Eric is really struggling, and is disregarding Galina's attempts to pacify him with gown suggestions. It finally looks like he is driving the team, when he comes up with using the teal silk they have left and everyone seems to fall into sync, even though they are scrapping one of their previous dresses and reinventing it. The distressed dress was not in line with the line enough. When one of the gals asks Galina if the skirts are too short on the models, Galina replies "Eric's models skirts can never be too short." 
Meanwhile, Kathy's team, which should be a dream, hits the ground running but starts to lose steam in over analysis city! Oh no!  Roberto, like always, see's Kathy as free-spirited and puts on green gloves saying that his "hands are a little lethal because everything he touches turns to couture." Kathy has Roberto making the ruffle dress, and Jim making a constructed pocket dress. Kathy seems to think that there are not enough gowns in her line though, and is throwing out ideas. Emil suggests incorporating the zebra print, Jim hates that idea. Emil wants to add bronze coloring to the teal and red kimono to tie it in and Jim hates that idea. Emil asks Roberto to pull back on the ruffle dress because he doesn't want it "too couture". Kathy and Emil are butting heads because Kathy feels in her heart that the evening gown needs to be full length, and Emil says they just don't have enough fabric for it. Jim suggests that they change the waste line on the dress, because it is starting to become too Marilyn Monroe, but Emil refuses and Jim storms off. Jim thinks it is anyone's game, and after seeing some of the work that Eric's team is doing, thinks they may not win. Kathy thinks she might have to surrender the red dress.
Perhaps Kathy's team could have used a pointer from Merle's team. When they were stuck they all just walked away and reconvened later. This approach seemed to really work for them.
Be sure to catch the finale of Launch My Line, next Wednesday at 10pm ET on Bravo.
(Image courtesy of Bravo)