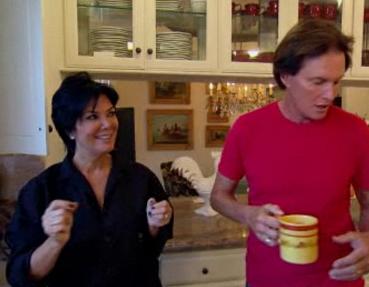 by Danae Young
This week on Keeping Up with the Kardashians, Khloé has an anger issue she needs to address pronto!
She slapped Scott across the face last week and now Kourtney isn't speaking to her.
Kris went out to lunch with her friend Lisa. Lisa told Kris about the male enhancement party favors she got at a friend's birthday dinner. Kris took some back home with her to use on Bruce…uh oh! I mean it's one thing to get male enhancement pills as party favors, but then to give them to Kris to use on her husband has bad news written all over it.
Khloé went to apologize to Scott which didn't turn out so well. They ended up just arguing more and Scott said he wouldn't talk to her until she went to some sort of anger program or something.
Kris put a male enhancement pill into Bruce's coffee the next morning! HaHaHa! Bruce was cleaning the pool not too long after he finished his coffee when Kris went out there and started hitting on him. It actually worked! The two of them even skipped out on going to the mall with their kids.
Kris and Kim sat down with Khloé to get her to go to an anger management class or else she probably wouldn't talk to Kourtney very much anymore.
Kris made another cup of "special" coffee for Bruce but turned around for a second and Rob ended up drinking it without Kris knowing. Of course Rob had no idea that the coffee had drugs in it. He ended up having an erection for two hours and had to go to the doctor.
Kris, Bruce, and Khloé stopped by the doctor to make sure everything was okay when Kris realized the entire thing was her fault. She had to confess to everyone that she had been putting the pills in Bruce's cup…how embarrassing!
Khloé made Kim go with her to anger management, which actually looked like it helped. She went back and gave Scott an actual apology so things are much better now! Yay!
See what happens next week when Reggie is back on an all new episode of Keeping Up with the Kardashians at 10/9pm ET/PT on E!
(image courtesy of E!)
For more Keeping Up With The Kardashians links visit Sirlinksalot.net