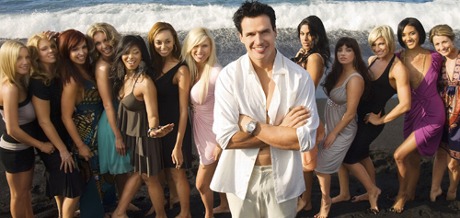 By Jackie Helm
This week on My Antonio, I was less than thrilled with the episode.  Antonio's soap opera skills were slippin' and I could have predicted all 4 things that happened.  Number one:  Antonio went on a solo date with Brooke and naturally it was off the hook.  They look and act like a REAL couple.  The two spent the day yachting, cuddling and kissing on the ocean. 

Brooke
Number two:  Antonio took Miranda on a solo date and it was full of friendly fun.  He blindfolded Miranda and made her guess the type of fruit that he was feeding her.  When she guessed correctly he rewarded her with a kiss.  Miranda giggled a lot and Antonio pretended they had a future.    Basically he gets his lovin' in with Miranda, but Brooke is truly the one he loves…or so I hope!

Miranda
Number three:  Tully was released from the hospital and got a solo date with Antonio as well.  But not before Momma showed up by Tully's bedside to confirm that she was really injured.  She also sternly reminded Tully that she would not win her son back.  During Antonio and Tully's date, they sat staring into one another's eyes.  Tully held back tears as she romantically gazed at her ex husband.  Antonio forced a sad frown and expressed his fake confusion…then he ran off.  Yep, he told Tully that he had to go and he bounced - just like that!
Number four:  Okay, I did predict that Tully would go home but I didn't expect her to show up to the elimination ceremony in a wedding dress.  She brought her and Antonio's pictures from their past and forced him to look at them right there at the dinner table.  Once again, Antonio wore the "this hurts me so bad" look as he viewed the old pics.
Finally, he told the girls to lift the lids of their plates and if they received a Hawaiian lei – they could stay.  Oooooh, nobody got a lei.  Antonio took all three girls to the side.  He asked the ladies a few pointless questions (while still wearing the forced confused look) and then FINALLY he sent Tully home!
Exhale!  We all knew that Antonio wasn't going to get back with his ex-wife Tully.  Especially when he has Brooke to choose from!  However, next week we see Brooke saying some ol' stupid mess that just might mess her game up!  See you then!
(Photos Courtesy of VH1)