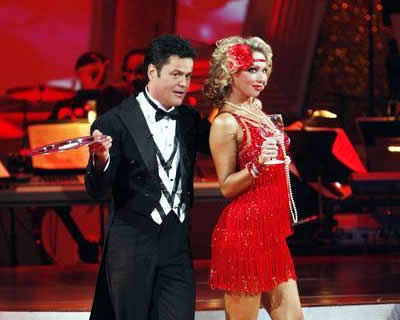 by David McAlpine
Last week on Dancing With the Stars, my favorite dancer ever (not that I'm biased or anything) Aaron Carter and his partner, Karina Smirnoff, narrowly escaped elimination when Chuck and Anna went home instead. On another note, Melissa Joan Hart stepped it up and delivered and dance to remember, much to the surprise of several viewers (including me).
So Maksim is back this week dancing with Joanna Krupa because Derek Hough has the flu—sad. I prefer Derek to Maks any day of the week, so we'll see how they dance. Anyway, the celebrities this week took on either the Argentine tango or the paso doble. This is how the performances broke down:
Celebrity: Natalie Coughlin
Professional Partner: Alec Mazo
Dance: Paso Doble
Song: "American Woman" by Lenny Kravitz
Breakdown: It sounded like a good idea, especially with the song and the guy needing to be masculine, right? And it worked to a point, but there was still something missing—I couldn't put my finger on it, but it was something. The judges seem to think it's a lack of getting into character, I think it's more of a lack of her being able to play anyone else.
Scores: Carrie Ann: 7 Len: 8 Bruno: 7 Total: 22/30
Celebrity: Aaron Carter
Professional Partner: Karina Smirnoff
Dance: Argentine Tango
Song: "Epoca" by The Gotan Project
Breakdown: You have no idea how hard I'm pulling for Aaron tonight. I don't even know why I am, I just like him a lot. I want to see him succeed! And in practice, it seems like he's picking up everything fairly quickly, which bodes well for me. On the dance floor, he looks so much more comfortable than he has the past two weeks, and it seems like he finally has his groove back. He's really playing the character and the passion is showing through and the judges love it.
Scores: Carrie Ann: 8 Len: 8 Bruno: 8 Total: 24/30
Celebrity: Michael Irvin
Professional Partner: Anna Demidova
Dance: Paso Doble
Song: "Los Toreadores" from "Carmen"
Breakdown: Again, another excellent song choice. This is one of the songs I immediately associate with the paso doble, and with good reason. Because this is such a technical dance full of fast moves (relative to other dances), I'm worried for Michael, because I don't know if he'll be able to do anything respectable at all. Instead, he extended his arms and his legs, has really good posture and manages to keep a smile. The judges were so impressed with his improvement, as was I.
Scores: Carrie Ann: 7 Len: 7 Bruno: 7 Total: 21/30
Celebrity: Mya
Professional Partner: Dmitry Chaplin
Dance: Argentine Tango
Song: "They" by Jem
Breakdown: The fact that these two are excited to do lifts is great, because obviously they're willing to go above and beyond to win the competition. Granted, it's not necessary to do lifts, and the fact that they can versus everyone else not being able to is a touch unfair, but it's still a crowd-pleaser. Still, they can never seem to nail a perfect dance, because the judges still have the tiniest of critiques for her. Will Mya ever get a 30?? I think that remains to be seen.
Scores: Carrie Ann: 9 Len: 9 Bruno: 9 Total: 27/30
Celebrity: Mark Dacascos
Professional Partner: Lacey Schwimmer
Dance: Paso Doble
Song: "Diablo Rojo" by Rodrigo y Gabriela
Breakdown: I was really worried for these two, too, because the paso doble requires some aggression on the man's part—something Mark hasn't exactly shown in his time on the show. However, a strategically placed solo for Mark by Lacey lights up the dance floor, and Mark does a fantastic job of selling it, especially in his face. I thought he might fall victim to the over serious face, or the constipation face, but he does a really good job of taking on the character.
Scores: Carrie Ann: 9 Len: 9 Bruno: 8 Total: 26/30
Celebrity: Donny Osmond
Professional Partner: Kym Johnson
Dance: Argentine Tango
Song: "Tango a Pugliese" by Orquesta Color Tango de Roberto Alvarez
Breakdown: During rehearsals, the two seem to be struggling because they have two dances this week and Donny has to perform four times in Vegas, too. It seems like a really hectic schedule and I'm honestly surprised Donny is keeping up. Bets on when he'll faint, anyone? I won't be taking those anytime soon, because when he gets onto the dance floor, he's on a mission to do well. It seems a little weird in the middle, but the beginning and the end and both really strong, and the judges reward him for it.
Scores: Carrie Ann: 10 Len: 9 Bruno: 10 Total: 29/30
Celebrity: Louie Vito
Professional Partner: Chelsie Hightower
Dance: Argentine Tango
Song: "Sin Rumbo" by Otros Aires
Breakdown: I still don't think Louie has the footwork ability to cut it in this competition, but that may just be me. However, I do feel like this week I was again proven right, because it just wasn't up there with everyone else. You can tell Louie is trying, which is really important, and you can tell that the two have sparks between them, but he just isn't as good as others. Sure he'll be able to float by another couple weeks, but if he doesn't step up his game, he'll have nowhere left to go.
Scores: Carrie Ann: 7 Len: 8 Bruno: 7 Total: 22/30
Celebrity: Melissa Joan Hart
Professional Partner: Mark Ballas
Dance: Argentine Tango
Song: "Tango Barbaro" by Lalo Schifrin
Breakdown: The tango is just as performance-driven as the Charleston, so here I am really pulling for Melissa to do something spectacular. Maybe my standards are too high, because what she did last week was so extraordinary for her, but I still thought it would be good to hope. Unfortunately for Melissa, being in character couldn't hide her fumbles in the dance. The steps almost seemed too complicated to her, or perhaps they just hadn't had the time to put in the practice for this week. Either way, the judges punished her for missteps, too, but applauded her character.
Scores: Carrie Ann: 8 Len: 8 Bruno: 7 Total: 23/30
Celebrity: Kelly Osbourne
Professional Partner: Louis van Amstel
Dance: Paso Doble
Song: "Crazy Train" by Ozzy Osbourne
Breakdown: Are they really going to keep putting Kelly at the end of the show, hoping that the suspense of how well she's going to do is going to keep people coming back for more? Well, it's kind of working for me, because I always find myself oddly fascinated with what she's going to be dancing and if she's flops or not. It's a cute tribute to her dad this week since she's dancing to one of his songs, which I'm worried is a ploy to hide some bad dancing. Kelly seems pretty disconnected from Louis during a lot of the dance, but it's still very good technically. It wasn't necessarily bad, just not the best.
Scores: Carrie Ann: 8 Len: 8 Bruno: 8 Total: 24/30
Celebrity: Joanna Krupa
Professional Partner: Maksim Chmerkovskiy (replacing Derek Hough for the week)
Dance: Argentine Tango
Song: "Whatever Lola Wants" by Sarah Vaughn
Breakdown: Since Joanna is the one going through the drama this week (her partner Derek has the flu), of course she's the one to finish out the show. Instead, she'll be in the expert hands of Maksim, so I'm interested to see how well she does compared to how well she normally does with Derek. It also seems like she didn't get enough time to practice this week, which is understandable with the partner switch, and she covers it up really well. Again, though, there have been so many high quality dances that it's clear this wasn't one of the best.
Scores: Carrie Ann: 8 Len: 8 Bruno: 8 Total: 24/30
Then, to add in a little fun and to stress the stars out that much more, it's time to do the hustle as a group. The guys are all wearing these heinously ugly wigs, and several of the celebrities (yes, Louie and Michael, we're talking to you) forget their steps, making it clear that they didn't spend nearly as much time on this one. Still, it's entertaining to watch and compare, because it goes to show that there really is not one frontrunner at this point. It really is anyone's game!
Be sure to tune in tomorrow night at 9/8c for the live results show to see which couples are in the bottom and who will be the next pair eliminated from the competition, only on Dancing With the Stars on ABC!
(Photo courtesy of ABC)
Follow David on Twitter: @DavidMcAlpine
For more Dancing with The Stars Links visit Sirlinksalot.net