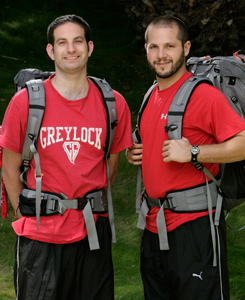 by Gina Scarpa
Last night, on The Amazing Race, things were going well for Zev and Justin, who ended up at the pit stop first after a race through Cambodia.  Upon arriving, though, they realized that they were missing one crucial piece of paper: Zev's passport.  Without all the proper travel documents, they would be eliminated from the race unless they could find it before the last team checked in.  They were unable to do and were unfortunately sent home.  Today, the friends spoke to RealityWanted about their experiences on the show and where the heck that passport turned up!
Q. Gina, RealityWanted: When did the two of you meet and how did you become friends?
A. Zev: We met at a camp about five years ago, in 2004.
A. Justin:  The camp that we both went to… I left for about 10 years and I went back to be a counselor and Zev was still there because he's younger than me.  We're both from L.A. and we stayed in touch and ended up becoming great friends.
Q. Gina, RealityWanted: Whose idea was it to try out for The Amazing Race and what made you want to do it?
A. Zev: I have been a fan since day 1.  It's been my dream to go on The Amazing Race.  I finally got Justin to do it.
A. Justin:  Zev's been telling me that we need to apply for 4 years and this year, he said, "Let's do it" and I said, "Either we'll get on the show or he'll shut up."  Now, it's become my dream, too.  I love it as much as he does.
A. Zev: Not AS much.
Q. Gina, RealityWanted: I was surprised how many people didn't realize that the picture on last night's episode was of Jackie Kennedy.  How long did it take you guys to figure it out?
A. Justin: Well, I didn't really know who it was.  Zev figured it out pretty quickly. 
A. Zev: I knew!  It was my friend Jackie O.
A. Justin: He was one of the few people that actually figured it out
Q. Gina, RealityWanted: I'm sure you guys have gotten asked this a million times but where did that passport end up turning up?
A. Justin: If you go to CBS.com, the Elimination Station episode is up.  We went across the street to the embassy and somebody had turned it in.  When we went into the monastery next to the monkey challenge, which they didn't show, I reached into my fanny pack and pulled out a light and the passport fell out there.
Q. Gina, RealityWanted: It was such a terrible way to get eliminated.  How did the two of you deal with it?
A. Justin: He beat me often. 
A. Zev: It was heartbreaking.
A. Justin: We just walked around in a funk for a few days after and thought about what could've been.  Eventually, we came to terms with it.  The silver lining was that we got to do this and we had enjoyed the ride.
Q. Gina, RealityWanted: Which team were you closest with?  Were you working with anybody else?
A. Zev: The team we were closest with was Garrett and Jess but they decided to leave early.  We weren't really working with everybody.  If you ran somewhere, it was like, "Oh is it over here?"
A. Justin: It always helped to have somebody near you.  There wasn't a team that we didn't everything with but there was a time we worked with Megan and Cheyne… and another time we worked with Gary and Matt but we didn't have a strong alliance the way the poker players do with the brothers.
Q. Gina, RealityWanted: You lucked out with your cab driver on last night's episode.  How did you end up with him?
A. Zev: First, Justin wanted to jump into another cab and this guy seemed to know where he was going better.  We decided to ride with him all day and take him on this adventure with us.  Thanks Thierry!
A. Justin: It was definitely luck.  We had had really bad taxi luck the first three legs so this was the first time that we got lucky.
Q. Gina, RealityWanted: What was your favorite place that you were able to visit?
A. Justin: The hotel in Cambodia was amazing. 
A. Zev: I really liked the green room in Japan.
A. Justin: Yeah, we really didn't see Tokyo at all and Vietnam… we had had our fill of it.  I wouldn't recommend spending your Christmas vacation there.
Q. Gina, RealityWanted: Did being on The Amazing Race affect your friendship, positively or negatively?
A. Justin: We were really tight and it seemed like a natural thing.  I guess maybe it wears on some people's relationships and they split up over it.  For us, we've spent a lot of time together before, like at camp for instance, so it wasn't an intense change for us.
Q. Gina, RealityWanted: Do you want to travel more together and visit places you haven't been?
A. Zev: I don't know about together…
A. Justin: It makes us wanna travel more, for sure.  We hope to have more adventures, whether there are cameras there or not.
The Amazing Race airs Sundays at 8pm ET on CBS.
(Image courtesy of CBS)
For more Amazing Race Links visit Sirlinksalot.net