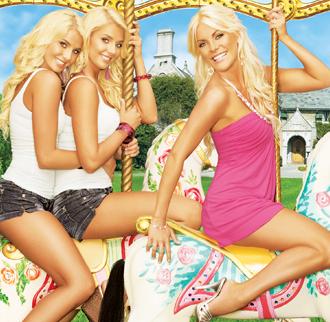 by Danae Young
This week, on The Girls Next Door, it's a new season and new girls have arrived!
Three new blondes up and have left their homes to live with Hef in the Playboy mansion. Two of the girls are actually twins! Their names are Karissa and Kristina. The third girl is Hef's new #1 girlfriend and her name is Crystal. She has some big shoes to fill, considering Holly dated Hef for about 8 years!
Crystal starts talking about how she is in love with Hef and met him on Halloween in 2008. Don't get me wrong, Hef is an awesome guy but c'mon, he's pretty old. Sometimes, I just don't get why girls would want to date him for anything other than fame and fortune. However, Crystal works a 10-dollar-an-hour job at the mansion in the scrapbook room.
The twins made an attempt to play tennis but it wasn't really happening.
Later, the three girls gave their dogs a bath, one black dog and two white ones.  Afterwards, they tortured the poor pups by dying them pink!  The dogs looked miserable.
The "Hefner Twins" did a playmate video about having fun at the mansion. Then, it was off to Las Vegas where they first held a signing.  They met up with Holly to go to Madame Tussauds Wax Museum.  They went around, taking pictures with different wax figures like President Obama, Snoop Dogg, and what they thought was a wax figure of Carrot Top. However, it turns out it was the real Carrot Top! Haha!!
The twins head up to their suite and call Hef to say goodnight before they get naked and take a dip in their personal pool that overlooks Las Vegas. It must be nice…
Watch all new episodes of The Girls Next Door Sundays at 10:30/9:30pm CT on E!
(Image courtesy of E!)
For more Girls Next Door Links visit Sirlinksalot.net