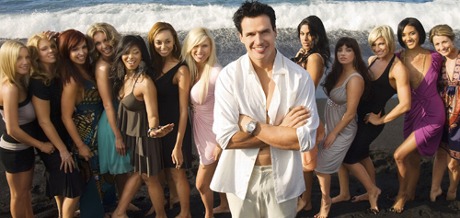 By Jackie Helm
This week on "My Antonio", the final four competitors go horseback riding with Momma!  She wanted to get a better feel of the girls as well as to see if they'd be down to saddle up and ride.  Antonio's mother Yvonne is not going to let her baby wind up with the wrong woman again. Speaking of Antonio's ex-wife, Tully was quite the experienced horseback rider.  She was kind enough to coach crybaby Christi,  (who claimed to have previously had an accident on a horse in the past).  Finally, Tully climbed down off of her horse to offer Christi further assistance.   When she did this, "RRRRIP", she pulled a stomach muscle something terrible.

Tully
After riding the girls sat down for lunch with Momma.  "Why should Antonio choose you?" was the question of the day.  Miranda confirmed her claim of being an actress when she said she really likes Antonio and they'd make a good match.  Of course my favorite girl Brooke had the best answer.  She said that she and Antonio would have fun doing the things they both love and she would be great for him!  Christi said she was shaken by being up for elimination twice in the past and just couldn't understand why.  Momma thought that Christi has a REAL problem for not understanding Antonio's reasons for possibly eliminating her.  Let's see…crybaby, big mouth, self absorbed, fake, etc.  Next Momma got her change to give Tully the 3rd degree (again) for being 28 years old when she married her baby Antonio at age 18.  The other girls realized that Tully should just woman-up and apologize.  But Tully stood firm in seeing no harm done in eloping with baby boy in Vegas many moons ago.
As the outing ended, Tully recognized that her pain was not subsiding and she was rushed off to the hospital.  Later, Christi forced her way into a talk with Antonio as she desperately needed to figure out where she stood.  Her convo consisted of strapping on a string for a bathing suit and trying to win him over in the hot tub.  The fun times didn't last too long as a crew member rushed in to report on Tully's condition.  Antonio was informed that Tully's injury was serious and that she was bleeding internally.  Antonio swiftly moved from Christi's embrace and ran off to tend to Tully.

Christi
Oh no, heck no, crybaby Christi wasn't having that.  She complained that Antonio didn't even say "goodbye" to her.  Yes…she really did.  She actually shattered her champagne glass on the ground.  The other girls even told Christi that they slightly understood her concern; however, get real, there is someone in the hospital!
On to the hospital scene, Antonio played the perfect, sweet concerned man that he is.  Apparently when Tully climbed down from the horse to help crybaby Christi, she tore muscles in her stomach and was hemorrhaging beneath.  She lay limp, hooked up to an IV and was ordered strict bed rest or else surgery may need to take place.
When Antonio returned to the other girls with the news, Christi immediately piped up about being played off so that he could run to Tully.  He apologized but was obviously taken back by Christi's ugly concern for self.
The next day Momma had a dandy idea.  She said that she was going to take the girls to the spa, but ah ha – she revealed that they were to pick out wedding dresses!  Naturally, Brooke relished in the moment and enjoyed becoming a bride.  Miranda threw out snide remarks about brides who want big weddings are attention seekers.  Christi went with the flow until Momma asked the girls to write vows.  Her cover up for "not having true enough feelings for him and only being on the show for publicity" was that she wanted to save her vow writing skills for her "actual" wedding day.  Good luck to the schmuck who takes on that one!
Meanwhile, Momma got Antonio suited up and took him to the alter.  You want me to do WHAT Momma?  Come on Antonio, just for play, just for play.  So Antonio stood under the wedding arch and watched Brooke walk down the isle first.  Of course she was as elegant and beautiful as ever.  Brooke's vows were beautiful too.  She promised to love Antonio's kids, take her time getting to know him and to bring him joy and happiness.  Awww, I can't wait until their real wedding day.

Brooke
Miranda was next.  Now, she's a pretty gal, but she doesn't have that genuine, loving finesse that Brooke does.  She claimed she would marry Antonio right that moment if he asked her.  Her vows were…cute…about her finding her knight and shining armor…but they couldn't beat the words of Brooke.  Last AND least, Christi trotted down the isle to stand hand in hand with Antonio.  When prompted for her vows, she revealed her saga about not writing them because it wasn't her "real" wedding day.  She said something about loving him one day but she wasn't going to play make believe.  Antonio definitely wasn't cheesin' the way he was with the first two.  When asked for any objections, Momma stood up and said, "I object!"  Ha ha, give it to us Momma, what is it?
Momma let the cat out of the bag and told Antonio that Christi is a trader, sneaky snitch!  She informed everyone that she asked Christi to get the low-down on Tully and the other girls.  Momma said that Christi took on the task and brought information back to her as requested.  With Christi blindsided on front street, Antonio was disappointed in her dishonesty.  He reminded Christi that he's had to ask her to chill out with her behavior in the past.  He added that he was also upset she was more concerned about herself than the fact that Tully was in the hospital.  On top of all that, now she's a backstabber and at that point Antonio gave Christi the "Goodbye" that she had fussed about!  I thought Christi would blow a gasket, but surprisingly she exited gracefully.  She interviewed that she was numb and bitter for being rejected and that she's never been dumped.  Well, there's a first time for everything Christi and frankly you deserved it!
The show ended with Antonio giving Tully gifts as she lay in the hospital bed.  He informed her of the pretend weddings and Christi's dismissal. Then he gave Tully a Hawaiian lei which solidifies her a spot to continue on in the competition.
Next week the final three girls face off.  Momma pays Tully a visit in the hospital which leaves Tully in tears!  I've got my money on Brooke all the way!
(Photos courtesy of VH1)