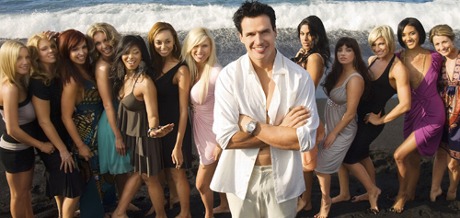 Last night on "My Antonio", the competing ladies had to kick up their acting skills!  Antonio's purpose was to teach the girls to understand him in regards to his life as a star.  He paired them up and assigned acting roles for a soap opera that was filmed on an actual studio set!
The first set was titled, "In Bed" and starred Brooke and Tania.  Antonio passionately kissed Brooke beneath the covers.  He then kneeled beside the bed to ask Brooke's hand in marriage.  Brooke burst into tears as she confessed to having a rare blood disease. Mistress Tania stormed in the room stating that she was the only other person in the world with the disease as well! However, she was able to fight it and the cure could only be found in her blood as she ran out of the room with an evil, resounding laugh.


                               Brooke and Tania
Christi and Autumn starred as siblings in "Sisters" who were both pregnant by Antonio.  Ex-wife Tully and Miranda played in "The Divorce" where Antonio wanted to divorce Tully to be with his mistress, Miranda.  To determine a winner Antonio gathered an audience on the lawn of the Hilton to watch the final cuts. There was a tie between Miranda and Tania so they BOTH won a solo date!
Antonio intended on going back to suite to congratulate the girls but found Tully crying.  Blah, blah, wah, wah, she's always reaching WAY out there for attention.  Of course Antonio wasted his time trying to console her.  Tully threw in their "history" card saying that she is under more pressure than the other girls due to being his ex.   She went on to say that none of the other girls were good enough to be with Antonio.  Of course the ladies were eavesdropping and if they didn't like Tully before, they certainly didn't now!
On Miranda's date with Antonio, she had to fight her fears of claustrophobia and heights as they circled the island in a helicopter.  Next up - zip lining! We had to wait on Miranda to flip and freak out but she finally ziplined across the forest to Antonio waiting on the other side. Later, Miranda and Antonio enjoyed a romantic dinner in a cabana in the middle of the rain forest.  Since this was the first date for the two, their new found chemistry was actually quite endearing.

Miranda
During Antonio's date with Tania, they ripped the fields in a Hummer.  It appeared rather awkward as Tania had to hold on for dear life while looking pretty and pretending to have fun.  Later, they picnicked and unfortunately Tania lost her tact.  She remarked that Antonio had kissed the other girls and it was her turn now!  She kissed and positioned herself on top of Antonio and he wasn't really feeling all of that.  He later stated that he preferred spontaneity rather than that mess Tania was pulling.
At dinner, Antonio put the gals on the spot.  Since everyone knew of Tully's comments, he asked the others who they thought should go home.  Most of the ladies said that Tully should leave but a couple mentioned that Autumn seemed too young for Antonio.  Both girls tried to defend themselves and when Tully spoke, Momma interrupted her with an audible snore!
When the dessert trays were placed in front of the gals, it was Christi and Autum who did not get a Hawaiian lei.  Antonio asked the two girls to step to the side.  Immediately, Christi's mouth began to run about being shocked and embarrassed to be one of the bottom two.  I was embarrassed for her brass behavior but whatever her tactic was, it kept her in the game.  Although Autumn thought that she just needed more alone time with Antonio, he let her go. He said that although Autumn was nice and sweet, he didn't feel 100% connection with her.
Back at the table, he let the girls know that the competition was going to get harder.  Again, speaking out of turn, Christi remarked that the competition was the hardest thing she'd ever done.  Now after wanting Tully gone for so long, I'm thinking Christi's mouth is getting on my nerves and she should be the next to go!
Next week, the girls must walk on hot coals or hit the road!
(Photos courtesy of VH1)