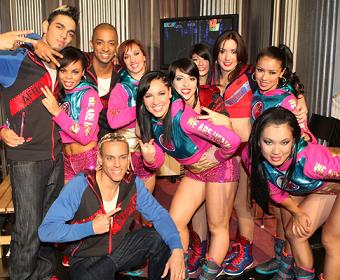 by Danae Young

This week on America's Best Dance Crew, one crew will be crowned America's Best Dance Crew! It will be the first time a B-Boy crew will not receive the trophy.

All of the crews from this season came back to Los Angeles for a reunion. The crews were broken up into groups by the judges for their common strengths to make an ultimate crew so good they will blow the audience away.

Lil Mama brought Artistry in Motion, Vogue Evolution, and We Are Heroes together to bring out the girl power in their performance. Their routine made it clear that girls not only can dance but quite possibly better than the guys! They had an awesome routine.

Afroborike, Rhythm City, and FR3SH joined forces with the help of JC for a chemistry-filled performance. Their chemistry proved true because the routine was fantastic.

Shane decided to bring different styles together with Southern Movement, Beat Ya Feet Kings, and Massive Monkees. While showing each crew's style, this routine was all-around entertaining.

The two finalists put their differences aside to perform together followed by some words from the judges. Shane said Afroborike has done some crazy things on the show and they deserve to be here. JC added that it seems like they've been the underdog most of the season but their positive energy really showed. Lil Mama thinks that We Are Heroes carries a super hero persona and said they are strong and ambitious. JC also commented that they make one unit even thought they are five different parts.

It is between a Latin-flavored dance crew and an all-girl crew. Both have a lot of style and know not only how to dance but perform. Only one can win the title, who will it be? America voted and, drum role please, America's Best Dance Crew is…

WE ARE HEROES!

After Afroborike's banner fell, We Are Heroes received their trophy from Randy Jackson himself and performed as America's Best Dance Crew for the first time! Congratulations to We Are Heroes not only for winning the title but also for being the first female crew to win the title!
(Image courtesy of MTV)
For more Americas Best Dance Crew Links visit Sirlinksalot.net