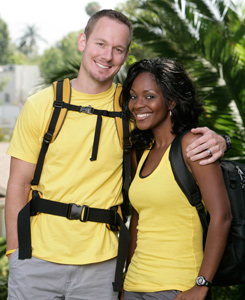 About Amazing Race Cast Members Ericka Dunlap and Brian Kleinschmidt
Ericka Dunlap (27); Brian Kleinschmidt (27)
Hometown: Nashville, Tenn.
Occupation: Ericka (Entertainer/Miss America 2004) / Brian (Marketing Tour Manager)
Relationship: Married
Tune into CBS Sept 27th 2009 for the premier of The Amazing Race 15.
Stop by by RealityWanted.com to read weekly recaps and exclusive cast interviews.
We wanted to be on the show for a couple of reasons. The first was to go on the honeymoon we never got, the second reason is to show her mom that I am here to stay and hopefully she will accept me as her son in law. Some of her strengths are my weakness stated Brian. Our slogan is the Ying Yang symbol, because we compliment eachother well and they are looking forward to competing in the race.
Copyright 2009 (photo courtesy CBS)