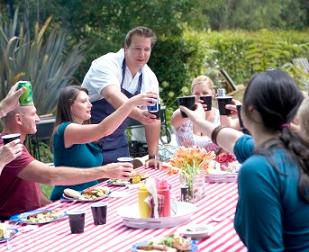 by Lindsay Strouse 

More To Love gets a little more intimate this week, with each girl receiving a special surprise with their one-on-one date with Luke.

Tali and Luke have their first individual date at the Go-Kart track. Although Tali has been a bit reserved and serious in the past, she lets out her competitive side on the track, surprising and impressing Luke. As soon as the couple settle in for a nice lunch, hamburgers are served by none other than Tali's aunt and uncle.

The conversation gets serious real quickly when Uncle Leo brings up the issue of Tali's conservative Israeli background. He lets Luke know from personal experience how difficult it is to bring an American man into the family. Luke becomes worried that Tali's family may not even approve of him as a husband, putting pressure on his decision.

The second date goes to Mandy for an evening on the boat. However, before she even leaves the house she has a breakdown over Malissa's questions concerning their relationship. I think these insecurities stem a bit further than the issue of weight.

Once Luke and Mandy get on the boat, she is welcomed by her smiling parents, eager to see her and meet Luke. Everything is smooth sailing at first and it seems as if Luke fits right in with the family. The water starts to get a little choppy when Luke asks Mandy's parents if they think she is ready to settle down.  They don't think she is ready for marriage for awhile, which is enough to make Mandy want to jump overboard. Despite this one glitch, the date goes over relatively smoothly.

Next in line is Anna for a day of bowling. Her flirtatious moves distract Luke, allowing her to easily win the game. Things get even better for Anna when she is pleasantly surprised by the appearance of her parents. They waste no time talking about Luke's plans for the future concerning marriage and kids. Anna makes it clear that she wants this future too, although her parents remind Luke that her modeling career can take her away for months at a time. While Luke has faith that true love would be able to see them through if they really tried, he is worried that her dedication to modeling may get in the way of a serious relationship.

Last, but certainly not least, is Malissa's date. Luke takes her out for a romantic night of dinner and wine tasting. They mix things up a little bit by putting on blindfolds for the tasting. Surprise, surprise, when Malissa takes her blindfold off, she is greeted by her two younger sisters. Maybe it's just me, but things seemed a little awkward when Malissa's younger sister Kat immediately brought up the issue of Malissa's recent weight gain. Luke quickly dismisses this, claiming he loves Malissa for every curve she has (I need to get a man who will say that about me!).

The subject deepens when the sisters explain how much of a mom-figure Malissa was to them after their mother died. This makes them extremely protective of her, which explains Kat's spit-fire questions at Luke. Kat stays on her path of destruction when she reveals that Malissa has never once babysat for her 4 year old son and can't see her having kids. This is a blow for baby savvy Luke who can't wait to settle down to start having children.

The next surprise comes to Malissa when Luke asks her sisters what they would say if he were to propose to Malissa. While his intentions are obviously the same for the conclusion of the show, hearing the words and sensing the reality of the situation sweep Malissa off her feet.

Once all four dates are over, the girls get ready for the mixer. Tali and Luke go off alone to discuss the issue of their differing cultures. Tali thinks her family won't be as harsh as it came off, but her anxiety of her foreignness continues to mount. Anna and Luke talk about their careers and how they would be able to find a balance to make a relationship work. Luke isn't willing to give up his job to travel with Anna and she isn't willing to give up her modeling career just yet. Uh oh, I smell trouble.

Mandy approaches Luke next about her insecurities concerning Malissa. She believes he has started to single her out and needs reassurance about his emotions concerning her and the other women. Luke is taken aback by how much comforting she needs and is concerned about her obvious insecurities and jealousy. Malissa tries to convince Luke that she will love her own child even if she isn't a "baby person," but Luke isn't so sure if he believes every word she is saying. Anything concerning children is easier said than done.

At the completion of the mixer, the four women place their rings back in the bowl. In the most heart-pounding elimination yet, one girl is eliminated to bring Luke one step closer to finding his true love. Luke calls Malissa first (much to Mandy's dismay), followed by Tali and Mandy. This leaves us saying goodbye to plus-size model Anna. When she asks why, he says he "just can't picture how their life would work together."

Next week, Luke, Malissa, Tali and Mandy are taking a trip to Hawaii!
More To Love airs Tuesday nights at 9pm ET on FOX.
(Image courtesy of FOX)
For more More To Love Links visit Sirlinksalot.net