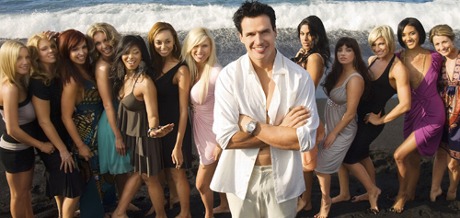 By Jackie Helm
Sadly, Episode 3 of "My Antonio" starts with ex-wife Tully.  She always looks so dull and depressed!  Momma questioned Tully's intentions and Tully said she wants Antonio to get to know her as an adult.  Momma snapped back that Tully WAS a 28 year-old adult who whisked her 18 year-old baby boy off to Vegas and married him.  Tully said something about how we change every 10 years but of course Momma said talk to the hand!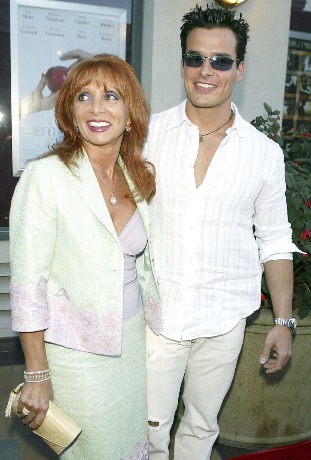 Antonio and Momma
"My Antonio" is quite different than other reality love competitions!  Antonio Sabato appears to have a genuine personality.  He is very gentle, kind-hearted and compassionate.  This combined with his knock out sexiness makes him one hot commodity.  I think I missed my reality show contestant calling!  In addition to that, these girls are pretty great candidates and seem to make an effort to get along.
Antonio chilled with the girls and chatted away.  He snuck in a little compliment to Brooke when no one else was around.  He's admitted more than once that he's feeling Brookes vibe.  It was a gay ol' time until Tully returned from her talk with Momma.  She was half-way still crying and had the nerve to ask Antonio if he'd fetch her some wine.  Do whaaa?  He told Tully that he didn't even know where the wine was and she could get it herself!  Immediately his whole demeanor changed and he was ready to bounce.  The other ladies were P.O.'d at Tully, she just ruins everything!
The next morning, shirtless Antonio gives the girls a physical challenge.  They bust a little jog, pump out some push-ups and climb horizontally across a rope.  He rewarded the girls with some wet fun in the sun on a slip-n-slide!  Weeeeee!  It was a gay ol' time until Tully hurt her head while sliding.  She claimed to have seen stars but pushed on to show her strength for her ex-hubby.
Writing a love letter to Antonio was his next challenge for his female friends.  Some letters flowed, some didn't and Tully didn't even take the time to write one at all.  When addressed, she cried some crap about loving him for 18 years and blah blah!  *Sigh" get out of here Tully.
Antonio was feeling the letters from Autumn, Tania and Christi the most.  I thought Autumn's sounded more like an obsessed fan, but it tickled his fancy.  Although he liked her letter, Autumn didn't get a one-on-one date with him.  Tania won a date to dinner due to her letter containing an actual "key" to her heart.  Christi's letter supposedly made Antonio CRY.  Yes, he teared up and turned away to dry his drops.  I'm telling you, its pretty soap opera-ish on this joint!  Christi's reward would come the following day.
Tania and Antonio had a nice little giggly dinner date together.  Tania even got a few dainty kisses on the cheek from Antonio.  But Christi and Antonio's date was a scene right out of a love story.  Production added the soft music and clips of Antonio holding Christi as they gazed upon the ocean.  We even got a little soft porn as Christi straddled Antonio with her bosom only inches above his face.  Christi got the "first" REAL kiss from Antonio and they kept on kissing.  Until Tully showed up.
Yep, Tully hopped on a jet ski and rode out to Antonio's yacht.  She climbed aboard and said something to Christi to the effect of "please, woman to woman, mom to mom, can I have some time with him?"  Christi scowled and said, "10 minutes and counting!"  Tully didn't have anything else to say than what she's already been saying.  Just give me a fair chance Antonio, yadda yadda yadda.  He agrees and sends her a$$ back to shore.  Christi played it cool but when she got back to the house, she tore into Tully for interrupting her date!
At the elimination ceremony, Antonio skipped dinner and got to the nitty gritty.  The waiters served the ladies their silver platters and thank God Tully did not get a lei.  But neither did Monique.  He took the two to the side and questioned Monique about their connection.  She was quick with it but her answer didn't suffice.  Unfortunately for us all, Antonio kept Tully and sent Monique home. Why why why!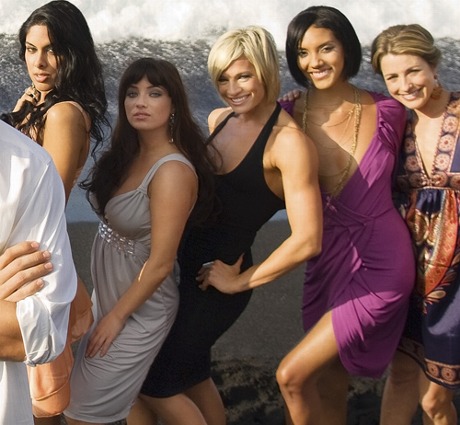 Tania, Jessica, Jennifer, Monique and Brooke
As the girls exited, Christi and Tully stayed behind to talk to Momma.  Tully apologizes and mutters something about having a son too but Momma isn't trying to hear it.  Tully sulks off and Christi explains that she's not just a naked Playboy bunny (because Momma wasn't feeling Christi's profession).  Momma is all ears but immediately changes the subject.  She asked Christi to, "get rid of Tully."
Christi agrees and next week and she looks to be on a mission to get the dirt on Tully.  What is this?  Tully doesn't have a job!  Imagine that!  Does Tully's love for Antonio carry on due to her need for stability both emotionally and financially?  Also, it appears that Jennifer gets a little snappy at Antonio with a little head-motion going on; put your finger down girl – that's Antonio Sabato!
Photos courtesy of Vh1