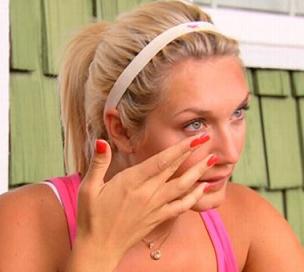 by Natasha Karaczan
On this episode of Brooke Knows Best, Brooke gets a visit from her fresh-out-of-jail brother Nick. Glen was not holding back the gay jokes, and Nick took it all in stride which was cool. His honesty about the sentence and what it was like to be in jail was eye opening. I think it made him grow up and realize what he wants in life. I like that he is now donating his time to charity.
How can Nick say that he doesn't pay attention to the fact that his mother is dating someone his age? It is a huge deal and more importantly gross. During their lunch I think he made some good points to Brooke.  He is going through the same things as Brooke and they can help each other through the divorce.
Linda cannot expect her relationship with Brooke to go back to normal. Brooke has every for being upset with how she is handling this divorce. Hulk has been struggling, and Linda just up and took the house and got a new man. Nick should have addressed some of that when Linda was asking why Brooke won't come up to see her. If anyone can convince Brooke to make amends with their mom it is Nick though.
Ashley and Glen also made some good points about why Brooke needs to be an adult and talk things out with her mom. They even offered to go with her to her mom's house to make things less awkward. I think they see Brooke's side of things, but also see the bigger picture. They are family and Brooke can't ignore Linda forever. When she was talking about all of their issues, it seemed like she has never said that out loud before. She needs to say all of this to Linda.
When Linda was crying on Glen's shoulder, all I could think of was how her massive globs of black eyeliner were going to stain his shirt. She is completely playing the victim. Glen explaining Brooke's point of view didn't make a difference. Linda is still acting like she didn't do anything wrong and Brooke is picking on her. She is the mother. She needs to be mature, go over to Brooke's house and face her daughter.
Linda needs to break it off with Charlie if she ever wants Brooke in her life. It seems she has latched onto Charlie out of loneliness not out of love. She wants someone and Charlie isn't going to throw away that free ride. They are never together and I doubt it is physical from how Linda talks.
Hulk is really great with Brooke. He was talking about she and Linda will be ok in the long run, but right not Brooke needs to deal with her issues. Nick finally saw just how hard Brooke is taking this, and I'm glad he realizes he can't force reconciliation. Seeing the three of them together without Linda really made the divorce real. I miss Hogan Knows Best where everyone was happy.
Can't get enough of the roommates? Watch Brooke Knows Best every Sunday night at 10pm only on VH1.
(Image courtesy of VH1)