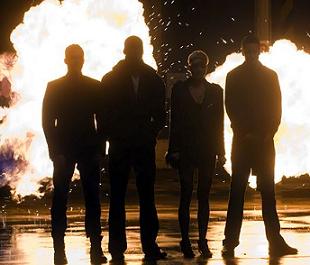 by Gina Scarpa
On tonight's episode of Make Me A Supermodel, the final four contestants arrive at a mysterious location in the complete and total pitch black.  As they arrive in the center of a warehouse, pyrotechnics go off all around them, scaring the daylights out of them!  Nicole and Tyson are there to greet them and bring in photographer Clay Patrick McBride to let them in on tonight's challenge.  They'll have to capture a great photo amidst chaos… and by chaos, I mean gigantic, shooting flames all around them.
Jonathan's up first and keeps his composure while explosions and flames fly in every direction.  Jeez, this is tough.  They only get a few seconds to get the shot and get it right!  Despite being told by Clay not to yell, Branden does it anyway and none of his pictures come out the way he had hoped.  Mountaha maintains her pose, despite the fact that her heart was racing.  Understandable considering how close the flames are!  Sandhurst is the last to go.  He seems totally calm… until the flames get going, that is, and he erupts with energy.
Nicole shows up at the apartment to deliver the photos.  Branden's is pretty rough - he's not even doing anything in it except standing there!  Jonathan's intensity can be felt but I'm not sure the same can be said for Mountaha.  Sandhurst's energy is out of control in his photo.  Cory Bautista calls to announce the winner and that person is Sandhurst!  Everybody here at RealityWanted wants him to be the last model standing.  Fingers crossed…
The models arrive at Bloomingdale's where a curveball is thrown at them.  They'll have to walk around the store and try to convince customers to buy the clothes that they're wearing.  While Branden struggles connecting with people (maybe it's because he calls them "bitches" when they don't engage in conversation with him), Jonathan seems at home talking to people and making sales.  When they're done, everyone is given $2,000 and 30 minutes to shop except Sandhurst who, as the challenge winner, is give $4,000 and two fashion experts to help choose his outfits.
Afterwards, the final four have a meeting with Cory at New York Model Management so that they can get an idea of what's in store for them if they should win the competition.  Holly, last year's winner, made a video for the models letting them know how great life has been since winning Make Me A Supermodel.  From the looks of it, she's been working nonstop and that's great to see!
Things finish up with tonight's runway challenge, modeling the outfits they purchased at Bloomingdale's.  It's clear that Jonathan and Sandhurst are safe and will most likely end being the final two in next week's finale.  Branden and Mountaha are left in the bottom two.  Based on Branden's photo, it felt like he would be the logical choice to home but in a shocking elimination, it is Mountaha who is asked to leave the competition.
Tune in to the finale of Make Me A Supermodel 2, next Wednesday at 10pm ET on Bravo.
(Image courtesy of Bravo)