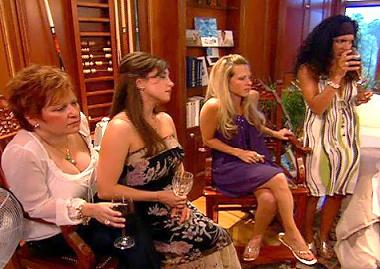 by Chandra Clewley
This week's episode of The Real Housewives of New Jersey unfolds the deepening drama that is Danielle Staube. 

Teresa Giudice takes her aspiring model/actress daughter Gia to Wilhelmina in New York City to be seen by an agent. The agent is not fond of Gia's photos and equates them to pageant photos. Teresa has Gia's headshots re-done, this time sans lip gloss. After looking at the second photos, the agent seems reluctant but does admit that she likes these photos of Gia better. We also find out that Gia did not make the role with The Rock.

Dina Manzo and her chef brother Jamie are shopping for furnishings for an opportunity to style a dressing room for an A-list celebrity client of Jamie's. Dina see's this as a huge opportunity for her career, but she is feeling torn between being a mother and a wife, and her successful design career. In order to teach her daughter Lexi a bit more about how to be a good housekeeper, Dina decides to hire a nanny for the summer. Lexi wants the nanny to dress up in a maid outfit and call Lexi "ma'am or your majesty."
Jacqueline Laurita confronts her teen daughter Ashley about receiving her grades. Ashley has failed 2 classes and will be forced to take summer school. Jacqueline has already taken away everything possible to punish Ashley for her grades, but when her husband Chris comes home with a brand new, fully loaded Jeep for Ashley to "get her self esteem up" Jacqueline pulls in sister-in-law Caroline Manzo as an ally. Caroline wants to stay out of it, and feels that Jacqueline needs to hide the Jeep, and does not feel Ashley has done anything to deserve it.
Caroline is encouraging her daughter Lauren to enroll in Artistic Academy, a beauty school. But Lauren is having her own doubts; she is open to learning makeup and hair, but refuses to learn how to wax anyone's private parts. Jacqueline, who used to be a cosmetologist in Las Vegas, agrees to take a tour of the school with Caroline and Lauren.
Danielle has everyone over for a Spa Night, and invites all of the girls. She has invited her plastic surgeon over for the occasion and Danielle, Teresa, and Jacqueline participate. Dina watches from the sidelines with Caroline and makes snide remarks about her husband not letting her get any work done. (Does anyone believe her? She can't move her forehead…) Danielle, after getting her lips done, makes a joke referencing her ability to still speak and Dina replies back with "We know that!" Danielle is, naturally, insulted.
The next day, Danielle has Jacqueline over under the pretense of planning her birthday evening, but uses it as an excuse to talk about Dina. She is angry with Dina for chastising and belittling her at the party the night before, and says that she is among other things "frustrating, annoying and condescending…"
Neutral Jacqueline is still hoping to stay out of it.
Jacqueline, Teresa and Danielle have a triple date at New Jersey Greek restaurant Varka Estiatorio with their significant others. Danielle is getting the cold shoulder from Steve, her 26 year old boyfriend, who hasn't been answering her phone calls or texts. The girls, feeling the tension, go outside for a minute where Danielle admits she was planning to break up with Steve at the table (what? At the table??) and has decided against it. She just doesn't understand why he spends more time with The Giudice's.
The next day Danielle crashes a play date that Teresa and Jacqueline have, to obsess more about Steve and how she is feeling about him. She just doesn't see it working out, because he is too young, even if they are in love… This all seems like news to Teresa, who has been under the impression, according to Steve, that he just goes to Danielle's house for routine hookups. Teresa and Jacqueline are upset that once again, Danielle has made it all about her and has crashed their play date. Once Danielle finally does leave, they begin gossiping about her past. According to their sources, Danielle may be more drama than they thought. The gossip around town is that she is a husband stealer and a former stripper. Jacqueline is getting a lot of pressure from her sisters-in-law (Caroline and Dina) to end her friendship with Danielle.
One wonders how long Jacqueline can keep up her Swiss façade of neutrality.

Make sure to catch The Real Housewives of New Jersey, all new next week on Bravo, Tuesday Nights 10/9 C.
(Images Courtesy of Bravo TV)